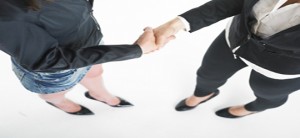 Once you've got leads coming in, take the next steps to walk them toward the register. The process may not always be speedy, but taking the time to parse through potential customers and develop a meaningful relationship with them will result in greater gains in the long run through their repeated business.
1. Act Quickly
Shoppers are more likely to develop a sense of loyalty to the first business that calls them back. Make an effort to get in touch right away, whether it's with a phone call, chat invitation, or email. An analysis by Leads360 showed that "speed is the single most critical component to lead conversion. Conversion rates are 391% higher when the lead is called within a minute of their inquiry; 120% within two minutes; 98% in under three minutes; 62% in under 30 minutes; and 36% in under an hour." The purpose of this initial connection in simply to make contact and establish the beginning stage of relationship. After the conversation, you can determine if that relationship is worth developing.
2. Qualify Leads
Determine which of your leads is worth pursuing, and which are less serious. Start this by asking the right questions, like what your prospect can afford, when they need to have your product or service, and if the person you're talking to actually has the authority to buy. Ask if they are serious about purchasing, or just shopping around, and if you are capable of delivering what they need. This will help you determine if your company is really a good fit for them and if the business relationship will be successful. If you don't think you can help them, don't waste valuable time and resources trying to force something to work. Move on to a more valuable lead.
Most importantly, pass this message on to ALL of your employees. Leads can come from anywhere, and everyone on your team should be aware of what to look for to keep your efforts concerted and unified.
3. Empathize
Once you pinpoint your sales-ready leads, cultivate an emotional connection that earns their trust in and loyalty to your company. This often means stepping out of your salesperson shoes into your customer's. Find out what they already know about you so you don't repeat information or talk down to them. Conversely, don't use technical language or industry jargon if the client has no knowledge of it. Know their perspective and meet them on their level. Prospects will feel closer to you if they feel you understand them. When they trust you, they will be willing to spend more for what you offer. This is where you can look for cross-selling or up-selling opportunities.
BUT don't go overboard! People know when they're being "sold," and no one likes to feel like a commodity.
What strategies do you use to cultivate strong customer relationships? How do you move your leads down the sales pipeline?