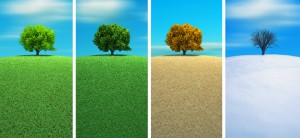 This past Halloween, you might've purchased your costume from a spooky superstore like Spirit or Halloween Adventure. Come Thanksgiving, it'll be time to stock up on turkey, stuffing, and cranberry sauce. And to deck out your house for the holidays, you might hire a light-hanging company to glitz you out.
The businesses that provide these services see serious spikes during the fall and winter months, just like resort towns get the majority of their business from summer vacationers. But how do these seasonal businesses get by the rest of the year?
Small business owners share these tips for staying alive during slow times:
1. Plan Ahead
a. Making seasonal profits last a whole year takes careful budgeting and planning. Keep track of your expenses from year to year and look for ways to pare them down during your slow months. When cash flow is high, save as much as you can and set spending limits for each quarter.

2. Adjust Marketing
Because your customer market fluctuates so much, marketing strategies must adjust to keep up.
For one thing, send loyal customers reminders to stock up on your product before the season kicks into high gear, avoiding the crowds and headache. Even if they don't purchase right then and there, you will be in their mind when they do decide to buy that year's turducken, or Christmas fruitcake, or whatever seasonal goodies you sell.
Once your initial reminder is out, put together special pre-season discounts, offering your most significant savings to your oldest customers first to keep their loyalty.
During your off-season, consider ways to create demand by re-tooling your products. For example, one flower shop owner on the Jersey Shore turned his store into an art gallery featuring floral arrangements when sales were down in the winter. Stores selling Christmas decorations could a "Christmas in July" party to raise both funds and awareness.
Most importantly, keep communications up. Send email subscribers monthly updates, keeping content fun and interesting. You might offer tips on how to throw the perfect Halloween/ Christmas/ New Year's party, or detail a new product or service you'll be offering for the upcoming season.
3. Focus on customer service
To keep your customer base strong year round, customer service has be excellent. Going above and beyond the call of duty to deliver on last minute demands can win over a shopper's loyalty for life, because they have evidence that they can count on you. Focus some resources on having extra phone and chat operators on standby to deal with any inquiries or complaints.

4. Build your community
Creating a loyal base right in your neighborhood ensures someone will be shopping all year long, after the tourists and holiday fanatics leave. You can do this by hosting or sponsoring community events during the off season, or tweaking your offerings to match local demands or interests.
Conclusion:
Seasonal businesses need to squirrel away funds during high times, and have flexible marketing strategies that allow them to generate revenue in the off-season. They also need to perfect customer service so shoppers don't forget about them over the year.
If you're a seasonal business, how do you stay afloat during slow months?