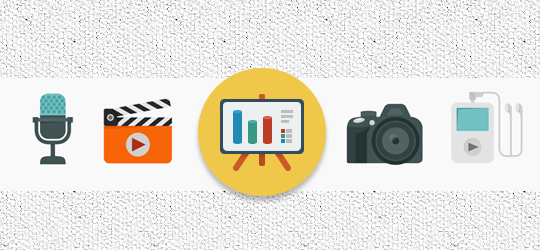 If you are a business owner, by now you have heard the hype about content marketing. You may have heard that traditional marketing is not going to deliver dependable results, as it has in years past. While content marketing is on the rise, the time-tested truths of marketing principles remain; to be effective, your message must engage your audience and have relevance.
It can be daunting to look at all the advice out there about how to create and distribute content. There are tons of pay services that promise you will have access to cutting edge creation tools and distribution channels. Locking yourself into service agreements can feel like a huge commitment when you aren't yet convinced of the benefits of content marketing for your business. Free trials are a great way to get a useful introduction to a service, many services have free features you can utilize without risk.
The good news is, you can get your feet wet and create content marketing materials yourself, while staying in control of the process. Don't worry about being an expert in social media, graphic design or cinematography. There are tools that will equip you to create engaging content with little to no experience,  while avoiding paying hundreds or even thousands of dollars for impact. Use your current social media outlets to post the content you create and monitor the change in engagement with your audience.
Follow These Two Rules!
Rule 1:
Put yourself in your audience shoes. What is relevant to them? What do they find entertaining, what do they want to know and what do they find useful?
Rule 2:
Entertain, educate and empower your audience.
No matter what kind of content you make, if you follow those simple rules you will be on your way to making something relevant that increases your exposure and credibility with your customers.
Try These Tools!
Blog: No matter what type of business you have, you should have a blog that gives you an outlet to connect to your customers. If you have a website, you should have a blog. Other than live chat, a blog is the best way to connect to your customers. Look into your CMS and see if a blog option is built in, otherwise talk to your webmaster and get one set up today! Use your blog as an opportunity to create clout by discussing topics that are of concern to your customers.
For example, let's say you are selling goods and services for the home. In that case, as a business blogger, you might consider writing about DIY home remodeling, decorating tips or how to choose a contractor. Once you get used to blogging, try writing for other reputable blogs that allow guest posting. Consider the formats of highly popular blogs like BuzzFeed, who engage readers with bite-sized lists and engaging headlines. Overall, blogging can dramatically increase your exposure  and credibility with customers, competitors and search engines.
Read this guide if you want to start a blog
Create Infographics: I know, I know, it's easier said than done. Well guess what… it's finally actually a drag and drop, free process with easel.ly You can start with a template or make your own design. No art skills necessary. Then simply download or embed your infographic when you are finished, using it where you see fit. Making your own infographics to accompany your blog posts can further engage your audience and make your content more likely to be shared. Other notable info graphic tools include Pictochart,  Venngage, and Visual.ly.
Tell Animated Stories: Do you have a message you would like to get across to your customers but don't have the budget for one of those fancy animated videos that present your idea or product in a fun and simple way? How about creating a unique animation yourself? Try Powtoon, where all you need is an internet connection and your ideas. You can create entertaining messages that inform your audience and capture their fleeting attention. GoAnimate is another service that powers your animation ideas with a bit more control over the process.  There is a fee for membership, but the tool's capabilities are well worth the sticker price. Wideo is another animation service worth checking out.
Create Eye-Catching Video: Using a professional video editor can be daunting and extremely time consuming. Creating a fast motion video with simple photo stills or short video clips is incredibly easy with Animoto. Whether you're making a simple introduction video for your "about" page, a customer testimonial, web advertisement or product video, you can make something that's definitely worth watching with Animoto. Wevideo is a cloud based video editor that lets you decide how much functionality you need to complete your project. You don't have to be confused by all the editing features, simply choose from the storyboard, timeline, or advanced editor suite, depending on how complex your project is. Another great tool, Motionbox is quite easy to use. With features such as Music visualization, Meme maker, Audio remover, GIF resizer, video trimmer, and video calendar, it offers an unlimited possibility when it comes to design.
Present with Style:  When you need to present information to your customers, instead of sending boring emails or wordy pdf's, consider doing it with a stylish presentation from Prezi. Get creative with your use cases and try it as a visual news letter, or a interactive presentation of your business policies instead of boring paragraphs. There is no shortage of presentation tools out there, be sure to check out Haiku Deck, Projeqt and SlideShare. Take advantage of the social potential in SlideShare to make your information discoverable to a wide community.
Engage in Discussion:  A great, inexpensive way to create content without the limitations of visuals is to create a podcast. Podcasts can cover many topics while relying on the imagination to fill in the stunning visuals. Many online audio recording and editing programs can allow you to create an engaging audio piece in no time. Garageband for Mac is a great tool with lots of music beds and sound effects built in. Audacity is a cross-platform, downloadable audio tool that provides all the functionality needed to create your first podcast to share with your customers.
Other podcast creation tools and sharing platforms include Ardour, Propaganda, Hipcast,  Podbean. They range from free services to low subscription fee services. Another great option to start a discussion with your customers is simply to try live chat on your website. Getting to know your customers can make a big difference in their purchasing decisions. Any content you create will have more impact when you have an existing relationship.
Continue reading: Advanced 2023 B2B Marketing Techniques
When you combine relevant topics and a dash of creativity, these simple rules and tools can get you started on a journey to reaching your customers with content marketing.