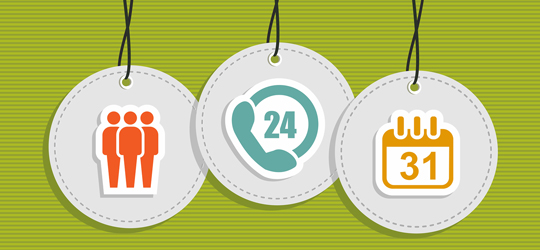 As a business owner and a consumer, you know that a company's level of customer service can make or break a customer's loyally and commitment to a brand.  Unfortunately one drawback of running an online business is that you miss out on those personal, face-to-face opportunities to really -wow- your customers.
Still, just because you're interacting in a virtual sense does not mean you can't commit your online business to exceptional customer service.  Read on to discover 3 simple ways in which you can establish customer service cornerstones while enhancing the overall online experience.
Be Available Even When You're Away
The caveat of running an online business is that people often forget that there is a living, breathing human behind your webpage.  Just like the rest of the world, you can't work 24/7.  However, online customers still expect and seek out online business's that can cater to them at anytime during any day.
One way to save your super-human effort is to upload a comprehensive frequently asked questions (FAQ) page. An option like this can act as an available voice that can cater to your audience even when you're away.  Consider taking things a step further with a searchable FAQ bar that can identify key words and anticipate audience member's needs.
Back up your effort with a customer feedback form that customer's can fill out and then receive an automatic comment like, "Thank you…we will respond within 24 hours."  Obviously, only make commitments that you can uphold.  Also be diligent in making sure that every aspect of your online presence (your website, Facebook, even Yelp account) has thorough details as to your contact info and available over-the-phone hours.
Monitor Your Reputation
Even if your online business prevents you from ever seeing your customers, you can always hear them.  Be sure to monitor online forums and respond to customer complaints and issues directly.
Keep in mind that apologizing and fixing an issue just evens things out; it's important to then ask yourself: how can I make things better so that I keep this customer and their positive word of mouth?  Discounts for future orders or free, expedited shipping are just a few accommodations to consider.   Then, follow up internally to make sure certain issues don't become chronic problems.
A word to the wise, monitoring your online reputation can easily become an obsessive, out-of control habit.  Set up free Google alerts for your business to act as a second set of ears and set aside just one hour a week to review comment sections and reasonably stay on top of your customer service game.
Enlist and Enlighten
Encouraging customer's to subscribe to your email list packs multiple customer-service oriented benefits.  Having a collection of customer emails can help you keep them informed of any changes in you offerings and procedures.  A list also provides you with an avenue to send perks like coupons and sales alerts.
Online customers appreciate being in the loop so consider setting up automatic confirmation emails of their purchases and/or tracking options for their order.  The more proactive of an effort you can make- the more pleased and attended-to your customers will feel.
What customer service tips can you add to this list?
Share your expertise with us!