When talking about customer service, most people think about talking to a live support agent on the phone or interacting with someone in person. But companies can provide customer service without ever interacting with customers. This is done by providing resources that customers can interact with directly. Examples of self-service resources include online knowledge bases, chatbots, discussion boards, videos, FAQs, and more. 
More customers than ever are looking for solutions that don't require direct interaction. In fact, a Gartner study found that 70 percent of customers are using self-service channels at some point in their resolution journey. This customer feedback is why so many companies are investing in self-service options as part of their omnichannel customer service strategy. In this article, we'll cover self-service benefits, give examples, and offer some tips for providing the best self-service channels.
Benefits of Offering Self-Service
Most companies have adopted at least a few self-service options for customers. Some have even fully embraced self-service as their primary method of customer service. Here are a few benefits of offering customer self-service options to your customers.
Convenience and Accessibility
Customer self-service channels make it easy for customers to get the information and help they need. Customers can use self-service whenever they need it. Even outside of regular business hours or on the go. They can use their preferred device to find solutions to their problems or answers to their questions at their own pace.
Fast Resolution Times 
Customers can solve typical issues quickly with self-service options. Because of the decreased need for contacting customer service and waiting for assistance, issues are resolved more quickly, creating happier customers. Offering faster solutions can help you exceed customer expectations and create a better brand experience overall. 
Customer Empowerment and Independence
Customers have more control over their experiences thanks to self-service channels. They can independently locate pertinent information, make account changes, follow orders, and troubleshoot problems. Customer engagement and satisfaction increase thanks to this feeling of independence. When customers are empowered, support calls are greatly reduced.
Cost Savings
Implementing effective self-service channels can help businesses save on customer support costs. When customers can resolve issues independently, it reduces the load on customer support representatives, freeing up resources to handle more complex queries or invest in other areas of the business. This can lead to a significantly lower cost in terms of staffing and operational expenses and is a huge reason why businesses choose to offer self-service solutions.
Enhanced Customer Experience
Self-service channels that are well-designed and easy to use improve the overall customer experience. When customers can easily find answers or resolve issues on their own, it creates a seamless and efficient experience. As a result, customer satisfaction, loyalty, advocacy, and retention increase. Self-serve options can also be a part of a customer's journey to discovering your business.
Examples of Customer Self-service Channels
Thanks to the many self-service options available, almost any business can find a way to provide customers with self-service options. Some channels may be more relevant than others, depending on the business and its products/services. Here are a few of the most popular customer self-service channels.
1. Online Knowledge Base
An online knowledge base is a great self-service option for service and product providers that have a lot of information to offer customers. In practice, this often takes the form of a searchable database of support content, with informational and troubleshooting pages that are interlinked with each other. Be careful not to simply upload product training or product documentation, though: Such resources are often not as helpful or easy to understand for the average customer.
SquareSpace's help center content is a great example of a customer self-service channel that is easy to navigate, simple to understand, and searchable.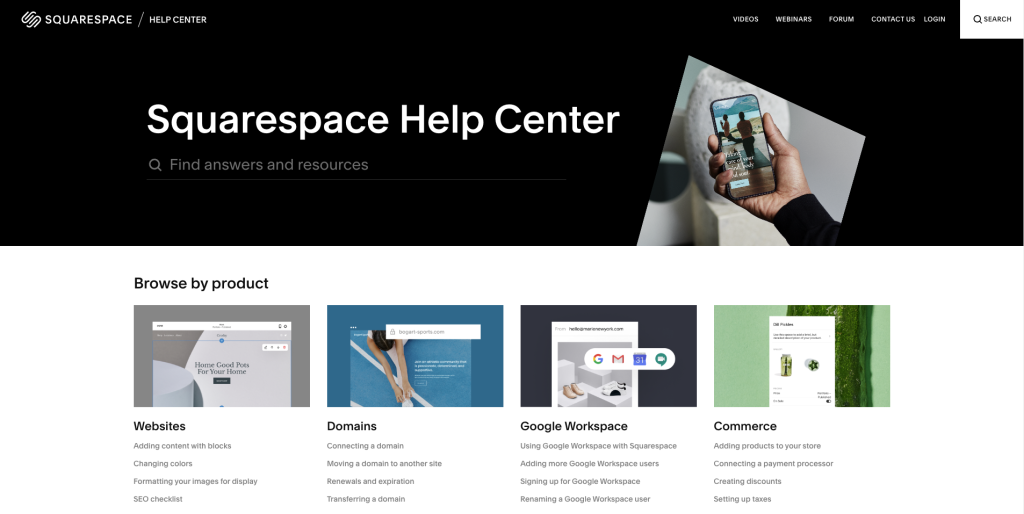 A simpler option for companies that are just starting to offer self-service is a frequently asked questions (FAQ) page. As its name suggests, this page has a list of questions that are commonly asked by customers. The company provides official answers to these questions so future customers with similar questions won't have to contact customer service. Make sure the answers provided are thorough and simple, as inadequate responses will just contribute to poor customer service.
Tip: Videos are another popular self-service option. It's fairly simple for businesses to make screen recordings or produce videos that offer detailed explanations. These videos can be stand-alone or integrated into a larger knowledge base down the line. 
2. Community Forums and Discussion Boards
If your business has a vibrant user community, online community forums could be a great option for helping customers find answers to their questions or problems. Relying on brand ambassadors and more experienced users is a great way to reduce the load on your customer service team. Not only can customers ask questions, but they can also browse previous threads.
Apple has created a great support community in which members can interact with one another and share their experiences.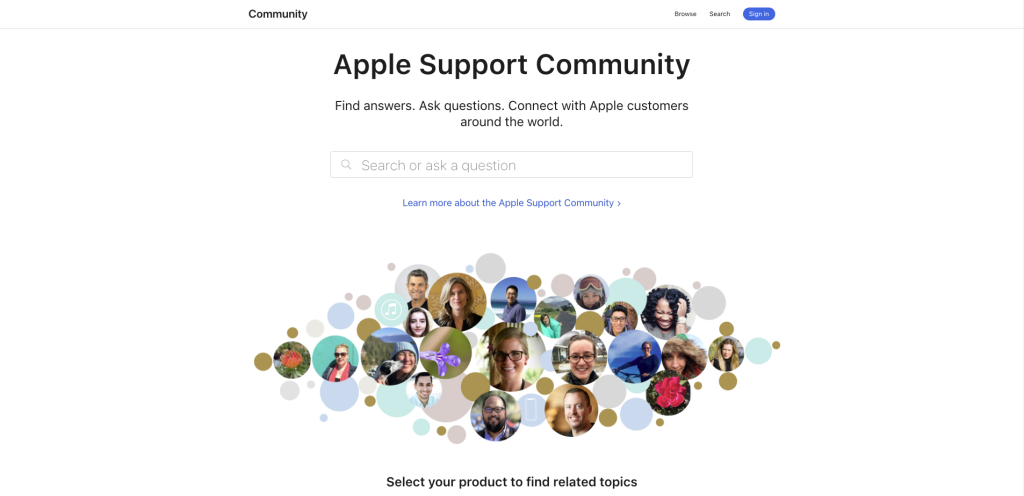 Tip: Discussion boards only work when customers are willing to engage. It is always only a small percentage of customers who are willing to do this. Consider carefully whether you have enough customers to make the effort of creating a community discussion board worth it. 
3. Self-Service Portals
Almost everyone uses self-service portals when interacting with the businesses that power their lives. Paying bills, updating account information, tracking shipments, and more are all done through self-service portals now. If these sorts of routine requests are currently being managed by a customer support team, creating a customer portal is likely worth the effort. Self-service can be a kind of proactive customer service.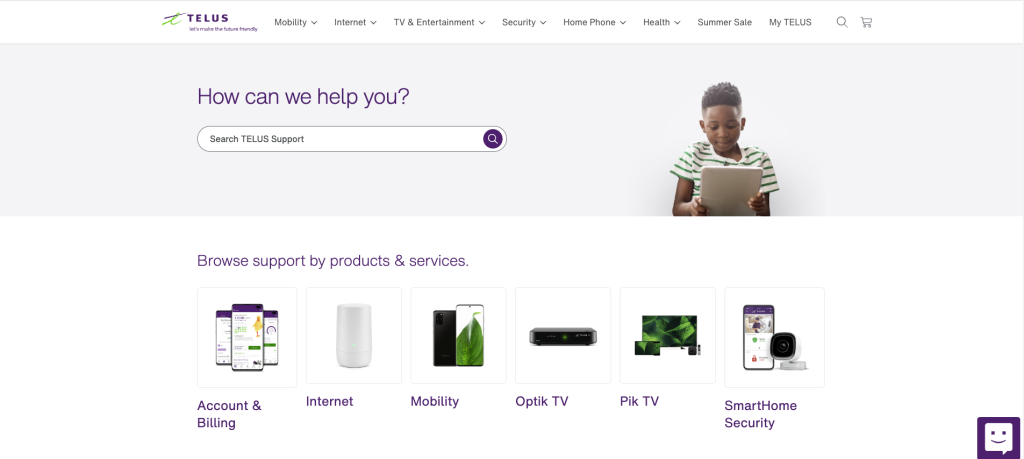 Tip: Don't get discouraged thinking that a self-service portal will be too difficult to set up. There are plenty of companies that can create a white-labeled portal for your customers. 
4. Live Chatbots or Virtual Assistants
Chatbots are becoming more popular. They can be found on any given company's website, usually in the bottom right corner of the screen. These chatbots are able to provide 24/7 customer service. They answer questions, guide customers to different pages, and even collect customer data. Some chatbot support is offered by a live representative. Other support might be powered by AI. Both can be helpful in providing instant help for customers and preventing long wait times.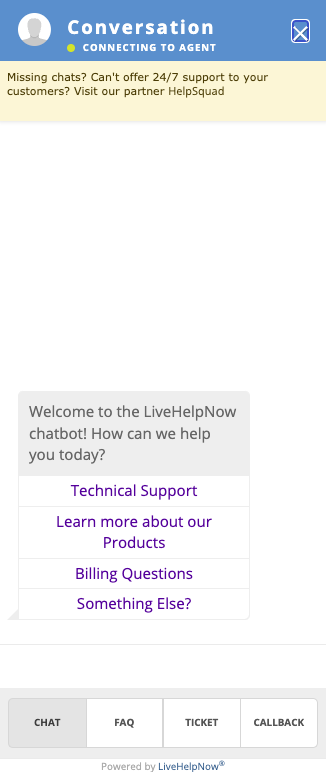 LiveHelpNow offers a chatbot that can help with initial contact, provide your customers with 24/7 support, capture lead information, schedule appointments, and more. 
Tip: Make sure you test out any chatbots you're planning on using. Enter different queries, and make sure that the responses are natural and helpful. Not all chatbots are good at handling complex requests. Common customer problems are much easier for chatbots to resolve.
Bottom Line: Self-Service Creates Better CX
Customer service is evolving. Today's customers want to be empowered to solve their own problems. Offering knowledge bases, FAQ pages, videos, self-service portals, and chatbots can meet this need, allowing businesses to win loyalty. Consider carefully which self-service options will best fit your business. Investing in self-service channels gives you an excellent opportunity to reduce the burden and cost of customer service and increase customer satisfaction.