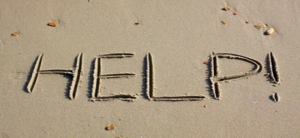 Previously on this blog we have covered why it's smarter to invest in self help options instead of making users call or email every time they have a problem.
Before launching your site, simply create content that will provide your customers with the most helpful information.  Have a prominent call to action on the homepage and other pages that will direct users to different self help options.
But what if your site is already up and running? How can you incorporate self help into your existing format?
In this case, you will have to subtly modify user behavior to persuade them not to call your toll free number as a first solution. Keep in mind, though, that simply taking down the number can make you look bad.
Follow these tips:
1. Have a customer centric design
Use prominent call to action buttons and user friendly navigation to steer the readers on your website to self help options like FAQ or knowledge base. Also add an easy search functionality. You can implement your own script or use tools like Google Custom Search or Lijit Search.
2. Use different formats
Depending on your product or service, go with either video or text, or a mixture of both. An easy way to determine what choice you should go with is to observe how your customer uses your product. If your user needs a lot of visual cues, go with video. If a sequence of steps does the trick, text should be the preferred option.
3. Keep it bite sized
Your self help library should be organized into sections and categories to help readers navigate through the material easily. Keep the individual articles or videos short and to the point. Precise categorizing is even more important if you have a complex product.
4. Keep your content user oriented
The fastest way to attract readers to your self help section and stop them from clogging up your phone lines is to create the content based on real life scenarios. Even the verbiage matters. Use something like "My [insert feature or widget] does not work. What should I do?"
5. Who, What, Why, When, How
Another way to keep it all about the user and make them stick around is to apply the WWWWH principle. Roughly, your content should answer this question: Who should do What, Why,When and How? This perspective will help you get into the heads of the user and make your self help options truly useful.
Conclusion
Simple but informative self help pages attract costumers and make them stick around. Some brands who do a great job at self help for users are Amazon, MailChimp and Go To Meeting. Get inspired by them.