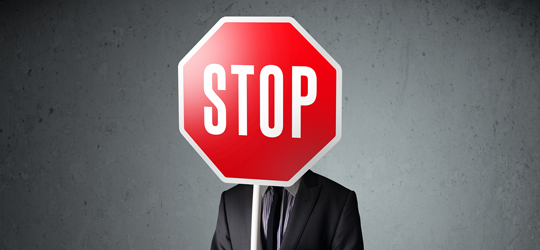 Running a business is exhausting, its time-consuming, and it can easily take over your life. When something takes over your life, it can majorly cloud your judgment. When something clouds your judgment, it can cause you to do super annoying things that make your customers want to stop doing business with you. Don't let clouded judgment blind you to your business's annoying tendencies, and you can keep customers informed, satisfied, and happy without crossing the line.
Don't bombard customers with emails. There is a fine line between informative and pestering, and when you clutter your patrons' inboxes with hourly reminders to come shop at your store, they will more than likely get irritated and move the messages to spam. Keep emails concise, visually pleasing, and informative, and try not to exceed a few messages a week if possible.
Don't clutter their newsfeed with meaningless social media posts. Make sure you are creating and putting out quality content that benefits your audience. Try creating infographics or humorous posts to create dynamic, shareable content.
Don't take forever to answer customer inquiries. There is nothing more irritating than having issues dragged out while being bounced between operators, so don't subject your customers to that. Resolve customer issues in a timely manner with as little transfer as possible, and customers will thank you for it.
Don't change prices, policies, or anything important without informing your customers. If something is changing, make sure your customers are in the loop so they don't feel like they are being deceived. If possible, inform your customers of changes before they happen so as not to catch them off guard when changes come about.
Don't make your website confusing. Your site is your virtual storefront, and it should be user-friendly, visually appealing, and it should let your products shine. Adding live chat to your website also allows you to guide visitors and close sales more effectively, by utilizing your customer service reps as a sales team. It also gives your website a more personal touch that customers will appreciate.
Though sometimes it may feel like your business is taking over your life, don't let it take over your customers' as well. Keep your emails pertinent, your posts relevant, your service quick, honest, and your website clean. This will keep customers happily shopping, rather than annoyed and throwing you into their spam box.