When you are tagged in sports, it means you're out of the game (just like this little baseball player pictured). But when it comes to help desk tagging, a tag means that you are winning the customer service game.
Live chat from LiveHelpNow helps you make sales and nurture relationships with valuable clients. But did you know that you can automatically tag chat sessions and ticket/email inquiries? And use these tags to help you collect feedback on the important trends and issues heading your way?
LiveHelpNow can help you win the big game
Your company may handle a lot of chats and emails every day. While each of those interactions has its own features and details, the conversation probably relates to an issue that your customer service agents handle often. For example, if you sell software, your customers may ask similar questions about pricing, upgrades, technical, or other issues.  Although you could handle each session as a stand-alone event, automatic tagging gives you valuable insights into your client base.
LiveHelpNow hits the ball out of the park

LiveHelpNow is affordable but packed full of awesome features like Auto translation, balanced inquiry distribution, conversion tracking, Secure Forms, analytics, and now automatic tagging, which is a great way to categorize your customer service inquiries.  Your agents can tag the subject matter of their chats by selecting from a list of previously created tags.  You can also set up auto tagging and the software will tag the session whenever keywords related to the tag are used during a chat session or within email body.
Here are some excellent reasons to take advantage of automatic tagging:
Organize by customer trends
Tagged chat sessions show you what issues your customers ask about on a regular basis. If clients are calling about a feature they would like to see, you can create a tag to identify requested new features and develop products or services around these new ideas.  You can also take a look at chronic customer complaints through auto tagging. Frequent client concerns about a certain product or policy can help you to resolve pain points for your customers and improve your products.
Color coded chats
You can use color to quickly identify the nature of an issue. When setting up your tag, think about using red to get your attention on problem emails, or green for a requested feature.  Categorizing by color makes it even easier for you to understand the nature of your chat sessions at a glance.
Auto tagging
Auto tagging gives you a quick, clear way to know what your customers are talking about. You can create keywords and tags easily on your dashboard. Collect information from your chat agents to identify which category tags you use most frequently.  You can also take a look at your chat transcripts to pull out frequently used words to designate as keywords that will automatically flag the tags you create. Auto tagging is an easy-to-use feature that offers a lot of key information at a glance.
LiveHelpNow auto tagging feature in action
Setting up auto tag is easy! For each tag there is a space labeled "Auto Tagging Keywords" in which you may type in the keywords that will trigger an auto tag. For example, if the customer types in "cost" or "price", the chat or email will be automatically tagged as a Pricing Inquiry:

(Notice how the tag categories are also color coded)
Here is how it looks in the customer service agents chat window when a chat is auto tagged:

And here is an example of a ticket that is auto tagged: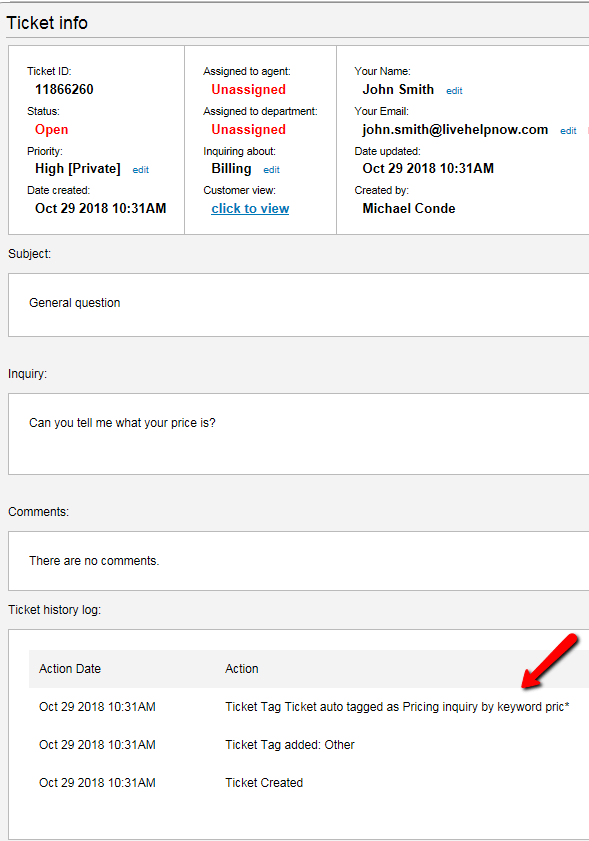 Use tagging features for better reports
Once your chats are tagged, you are able to generate reports to see chat and email interactions organized by tag. You will be able to visualize customer trends across different chat categories.
With LiveHelpNow, you can pull reports of chats by tag: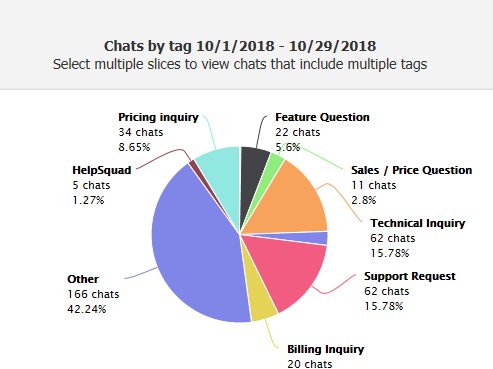 You can also pull reports of tickets by tag: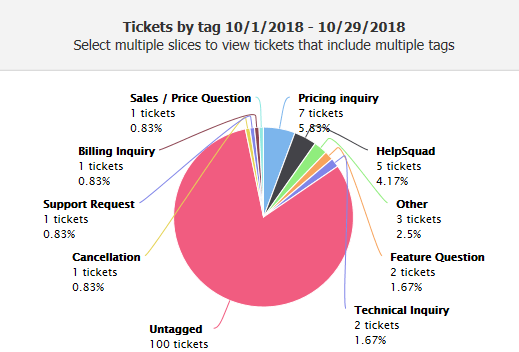 With these reports you will be able to see what concerns your customers have from month to month, and be able to use that information to improve you customers' experience.
Don't wait to win
Want to win the big game? LiveHelpNow is a fully integrated chat platform loaded with features to help make your business more successful. Learn more about the features you already have, or try LiveHelpNow free for 30 days to find out what you are missing.