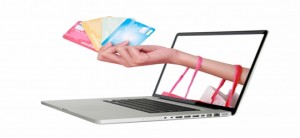 We've written a lot about how online and mobile shopping have spiked in recent years, with this holiday season shaping up to be the busiest e-commerce has seen yet. But, as any trip to the mall will indicate, brick and mortar stores are not yet a thing of the past. So how should businesses prepare for shopping of the future?
1. Pick-up Spots
People take shipping as a given when ordering products online, but if there was an in-store pickup option or designated pick-up centers that were close to home and cheaper for consumers, it's likely that more shoppers would choose this option to save time and money. Customers may turn to a business that offers this option over one that doesn't.
Encouraging customers to take advantage of in-store pickup also means that they will see your other products in-person when they come for their purchase, and may be inspired to peruse your aisles some more.
2. Sell on social media
Facebook recently launched a new "Gifts" feature. Users can select the Gift button on a friend's page, choose from a list of featured gifts, enter their friend's info, and send. It's a quick and on-the-spot way for people to congratulate others on an update like an engagement or marriage, new job, or big move. Though they are the first of the social media giants to integrate shopping into their platform, others are likely to follow suit if the feature proves successful. Savvy businesses should consider teaming up with Twitter, Google+, LinkedIn, and the like to promote their online market.
3. Go International
Since physical stores no longer dictate shopping choices, there's no reason why local businesses can't expand overseas. It may take some tweaking to your website, but going abroad opens up scores of new markets for your business.
4. Create a new in-store experience
One of the reasons people shop online is for accessibility and price transparency, but the downside is that customers can't see, touch, or test the products. Brick and mortar stores can stay on the map by offering the best of both worlds. Encourage shoppers to scan products on their mobile apps for full info, price check against competitors, and related coupons. This way, they get the benefits of online shopping, while holding their potential purchase in their hands, giving them more to base their decision on.
Conclusion:
With new shopping mobile apps and online outlets emerging everyday, there are a million ways to shop. Whether your business is online, brick-and-mortar, or both, entrepreneurs can take the best of both worlds to stay successful amidst changing trends.