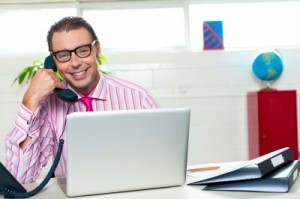 How many times have you found your inbox cluttered with messages from various businesses that you don't care to read? How many times have you found yourself deleting these messages before even opening them? How sick of spam are you?
Well, if you can't stand it, then what do you think your customers are thinking when they receive emails from you?
While we like to think that all of our emails will be read and responded to, that is rarely the case. Most emails, particularly company ones, end up in the trash before they are even given a glance. Why? Because emails are cold and make it look like you don't care. Plain and simple, they're impersonal.
Think about it. When you haven't seen someone in a while and you want to get in touch, what's the best way to catch up with them? I promise you the answer is not a boring, impersonal email.
Phone calls, people. They still exist, and there's a good reason. They keep things personal, and people like personal.
A phone call allows both you and the client to open up in a way that email does not allow. An email doesn't illustrate tones, it doesn't allow for candid thoughts, and it's much harder to make small talk or a light joke. What's the importance of this? Casual rapport can help build meaningful, lasting customer relationships that will strengthen their bond with your company. Think about it- when you know someone at a store personally, aren't you more likely to choose that store over another one? When you know someone personally, there's a sense of comfort and friendship that today's business world is seriously lacking.
So, go out of your way to talk to customers on the phone rather than simply through email. It can be a quick and efficient way to go about your work while simultaneously building a long-term relationship with a client. These relationships will turn into loyal customers, which are essential for the future profitability of your firm. Make business personal again.
Worried about when a good time to call is?
LiveHelpNow's Call Management system gives your customers a simple web form to fill out where they can list a time that is convenient for them to speak to a live representative. You can then make calls at a time that fits everyone's schedules, all from the comfort of your desktop.