In an effort to continue to help companies improve their customer support efforts, LiveHelpNow introduces its new partner program. Now, marketing agencies, web designers, value-added resellers, software resellers, outsourcers, consultants, developers, and other IT professionals will have the opportunity to generate additional revenue while providing the best overall live chat service for eight consecutive years to companies in various industries. The program provides the tools and resources to open new revenue streams and facilitate business growth for both resellers and their clients. 
The LiveHelpNow partner program is the only chat partner program available where resellers can refer, resell, and white label chat software and 24/7 managed chat service under one umbrella. The partnership initiative provides two offerings: award-winning LiveHelpNow live chat software and HelpSquad outsourced managed chat support. 
The partner program offers simple pricing and industry-leading margins, including jump-start promotions during the initial stages of the program launch. 
"My marketing agency was looking for a chat service to offer to my customers and an easy vendor to work with," says Pete Polgar, owner of Glenmont Consulting, one of the marketing professionals who have jumped on board with the new LivehelpNow partner program. "I spoke to quite a few providers. LiveHelpNow offers both chat software and 24/7 managed chat services. Their team is great to work with, and the medical practices for which I build websites love the additional leads they're generating through chat."
Different Levels Based on Partner's Needs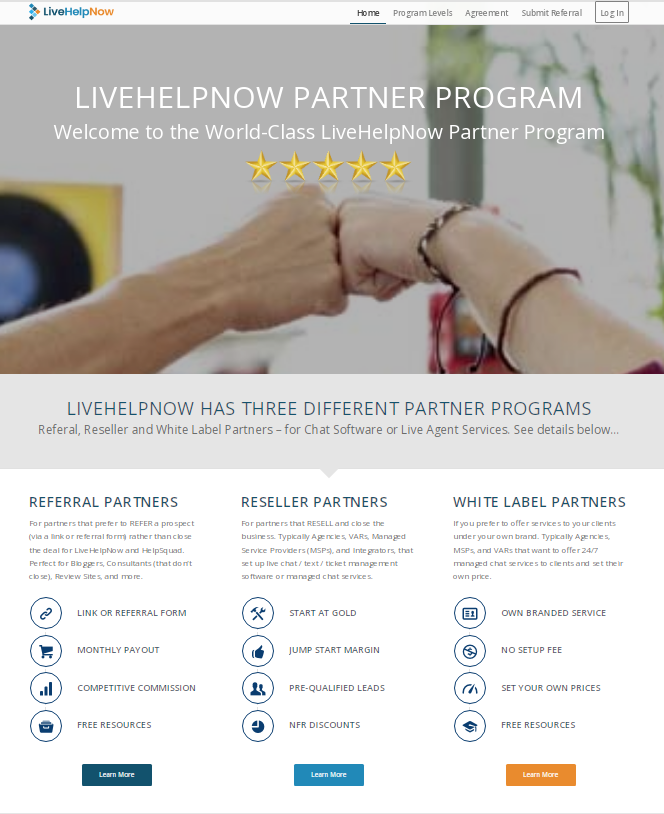 The program offers three different partner levels – referral, reseller, and white label sales. 
"The white label resellers will essentially get a discounted copy of the product," says Jason Filios.
Head of LiveHelpNow Partnerships. "They will be responsible for setting up, managing, and providing support to the customers and can set their own pricing."
"Our partner program is built to industry Best Practices along with competitive margins and promotions. We provide all the resources you might need to refer, resell, or white-label and pay full commissions throughout the life of the contract!"
The reseller level offers three tiers. During the months following the program's initial launch, all resellers will start at the gold level. The referral-level participants of the partnership program will receive a margin of the sale price of the software. That will depend on the number of leads they refer to LiveHelpNow. 
LiveHelpNow provides free training and free sales tools to its partners. There are no set-up fees and the process to join involves a simple application on the partnership's website.
Once approved, partners will receive access to helpful sales and marketing tools and communication within the partner portal. 
For more information or to apply, visit https://partners.livehelpnow.net/ or email partners@livehelpnow.com.