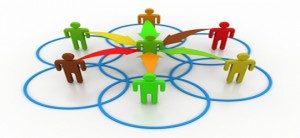 Sometimes, small business owners can get so caught up in their end product or the bottom line that they forget about the process it takes to get there. While its true that it costs less to hold onto existing, loyal customers than to snag new ones, there are simple ways to generate new leads and widen your customer base. Don't ignore the wide end of the sales funnel! Whether you act from behind a computer screen or prefer face-to-face interaction, here's how to start turning strangers into sales.
LinkedIn
– Join lots of groups. It spreads your visibility. Build your credibility by engaging in discussions a couple times a week. Answering questions makes you look reliable and knowledgable, and may spur some readers to check out your company's page.
– Build your network. Send invites to current and old business contacts, and use your current connections to ask for introductions with prospective clients or partners.
Facebook and Twitter
– Run keyword searches to find out who the experts are in your field and who is prominent in the Twittersphere. Follow them and interact with them. If a user with lots of followers retweets you or replies to a message, chances are some of his followers will check you out and join your bandwagon as well. The key to building a strong base on Twitter is tweeting consistently and engaging with the community.
– Let your Twitter and Facebook accounts be friends. Cross-post links to these pages wherever you can so interested visitors have more resources to research you. Use both accounts to post links back to your company website.
– According to the B2B Social Media Bookby Kipp Bodnar and Jeffrey L. Cohen, posts should follow the 10-4-1 Rule. For every 15 social media updates, 10 should be pieces of other people's content, four should be your own blog articles, and one should be a landing page. This creates enough variety and balance to keep readers interested in your content.
Email Marketing
– Find contact info for potential customers by researching other involved members of your LinkedIn groups, and add them to your CRM database. Segment your contacts by industry, so you can tailor emails to fit the specific interests of your recipients. A subject line that's too general or doesn't pertain directly to a potential client's needs will earn the email a spot in the trash folder.
– Include an invitation to an event or a call to action to enter a competition, or register for something free. This sets the stage for more opportunities to connect with your lead.
– Use an email tracker to track people's responses to your email and see who clicked through. Follow up!
Inquiries by Phone or Live Chat
– Your website is not simply an online business card. Today it is the customer's primary window into your business and one of the first places they'll look for your contact information.
– Make sure you provide a phone number to call, a live chat option, or ideally both so that visitors with questions have ways to reach you when they're on the fence about buying. It's a best practice to post your availability along with each support option so that customers know when they can expect to reach you.
– If you don't have the time or the staff to answer the customer inquiries you receive, consider using an answering service with live operators trained to answer both calls and chats as needed. This may seem like an expensive option but you'll be surprised at how flexible answering services can be.
Face-to-Face
– Just like you specialize interactions on the web, take care to target your face-to-face connections as well. If you attend a trade show or networking event, seek contact with attendees who will realistically use your services. You don't have to spend lots of money on a flashy display or lots of freebies, and there's no need to hand out a free pen or cookie to every passerby. This way, if someone stops to ask you a question, it shows genuine interest and true lead potential. Engage them and start a meaningful conversation. Have plenty of evidence on hand to back up claims about your business to really impress them, like customer testimonials or other info that highlights your best attributes. Collect their names and email addresses so you can follow up after the show, or at the very least provide them with the easiest way to get in touch with you  if they wish to at a later time.
Once you present yourself as a reliable and credible source and reach out to potential customers, you must be diligent in following up with every lead. Stay tuned for our next post on the most effective ways to convert leads into customers!