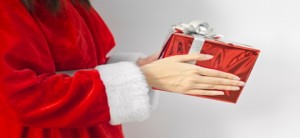 During the holiday season, shops put out their best sales and competitive prices to pull in savvy shoppers, but locating the best sale and bopping from store to store can be stressful for customers. The key to keeping them in your aisles instead of shopping around? Delivering warm, friendly customer service. During the holidays, creating a positive shopping experience and putting customers at ease is essential to winning their business.
A survey of holiday purchase behavior conducted by ClickFox showed that, while pricing is the foremost factor for choosing a store, experience was recorded as the second highest priority. 32 percent of shoppers consider customer service their deciding factor when selecting where to shop.
Here are some tips for using customer service to separate yourself from the competition:
1. Greet every customer personally.
Holiday shopping is unpleasant enough. Long lines, sold out items, and frazzled workers have everyone on edge. Ensuring that everyone who walks through your door receives a friendly "Hi! Can I help you with anything?" can make a world of difference. Instruct your floor salespeople to acknowledge everyone, even if it means turning away from someone they're helping for a quick second.
2. Know your products and policies.
Customers have questions now more than ever. Since they're shopping for someone else, they want to be sure they are getting the right thing. Don't cause more delays and frustration by being uninformed of your merchandise or the deals you're running. Take a few minutes before a shift to go over the need-to-know and check on anything you're unsure of.
3. Hire extra help
Adding part-time, seasonal workers to your staff ensure your bases are covered if your regular staffers call out or request time off. Having more than enough people on the floor also reassures customers that someone will be available to help them if they have questions are requests. Reduced wait times equals happier shoppers equals greater sales.
4. Offer refreshments
Shopping is exhausting. Spare customers the chaos of the food court by offering water, coffee, and snacks at a small bar (near the register, if you want them to walk through your store to get to the goodies). They'll appreciate your generosity and will be more likely to linger in your shop as they nosh.
5. Recognize loyalty.
Your store may be inundated with unfamiliar shoppers during the holidays, but don't let your loyal customers get lost in the crowd. Giving them one-on-one, personalized attention solidifies their devotion to your store and may convince them to spend a little more of their holiday budget in your store.
6. Stay online!
As stated in our post on online holiday shopping, more and more shoppers are checking off their gift list virtually… so it only makes sense to beef up online customer support.
According to a 1,000 person consumer survey by the E-Tailing Group and Bold Software, 20% of online shoppers select live chat as their preferred method of communication with a retailer. Stay on top of your chats and email support! Speed is #1 in this game… the faster you respond to online shoppers, the more likely they are to trust your help and buy from you, instead of a competitor.