"Always too loud!"
My friend Maryana read this part of a negative online review someone left for her Taphouse out loud as we sat at the breakfast table in a vacation bungalow this summer. "Always too loud"? Well, that's pretty funny, I thought. 
Let me back up for a second. Maryana and her husband Steve started a new business adventure earlier this year. Owners and operators of a micro-brewery, they were looking to expand their business. But they wanted to create more than a place to serve their delicious farm-to-tap beers. (Yes, I'm biased, but the beer is still delicious.) Going for a true community vibe, they constructed a large stage in their new Taphouse. Once they opened, they invited local musicians to perform live music at the new venue. And boy, did they succeed! At least twice a week local artists bring in crowds to pack the dance floor. Great Barn Taphouse is really is a fun place to be. 
Our reviewer disagreed (yet, continued to patronize the place as indicated by her use of the word "always." ????) But her review got me thinking. Today, negative online reviews can really hurt a business. After all, consumers rely heavily on reviews when making their purchasing decisions.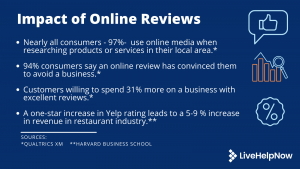 Sources: Harvard Business School, Qualtrix XM
Negative Online Reviews Are Part of The Deal
Businesses' livelihoods depend on reviews. Yet, so many factors play into the specifics of each review. They range from legitimate issues with a product or service to things completely out of the business owner's control. Negative online reviews are inevitable. 
So what if business owners used these glimpses into their customer experiences to their advantage? What if they took this customer feedback – negative, yet valuable – and used it? 
So we put out a question into the business world. We asked business professionals how businesses can use negative online reviews. We got an overwhelming number of responses, each more creative than the next. Turns out, business owners should not only stop being afraid of negative reviews but should fully embrace them. Because with the right mindset and a tad of creativity, businesses can turn online negative reviews into pure marketing gold. Here are 16 various ways to do that.
1. Don't Hide Negative Online Reviews Like a Dirty Little Secret
A business owner's first instinct might be to hide the negative reviews. Dispute them, bury them under an avalanche of positive ones, or ask the unhappy customers to take them down. All these options sound tempting, right? 
Do. Not. Do. That. 
If you do, you will enter the field of questionable business practices. You will also miss a truly golden opportunity. 
Devin Schumacher, Founder SERP, says that lack of negative reviews seems suspicious at the least and can even be seen as full-on shady. 
"Do not censor your negative reviews! Nasty comments are a slap in the face. However, negative reviews from real-life customers are not as detrimental as you probably think. These comments make your business page seem legitimate.

Trust me—anyone can filter bad comments. Dozens of shady online businesses bombard their profiles with fake reviews. Some brands even operate full-scale review farms. If you don't believe me go to Amazon. You'll see that the shadiest shops don't have a single review below three stars. On the contrary, reputable sellers have a diverse testimonials page."

Devin Schumacher, Founder SERP
Negative reviews show audiences that real flesh and blood humans run the company. Humans make mistakes and that's ok. The important part is to respond to reviews empathetically. That shows that the company is dedicated to solving problems and assisting customers.
Legal Expert Michael Conley at Michael Conley Lawyers recommends leaving professional and sincere responses to negative online reviews and doing so publicly. 
"Turn your bad reviews into marketing wins by leveraging the use of social media. Address these reviews by expounding on the concern and showing solutions," he says. 
2. Calm Your Ego, Lower Your Sheilds
Another natural reaction to negative online reviews is to get defensive. Oh, we humans are so good at that. Criticism just stirs up that ego, doesn't it? Well, repeat after me, people: defensiveness feeds the accusation. Read that again. 
As any good relationship psychologist will tell you, defensiveness is the enemy of conflict resolution, success, and growth. When we get defensive we open our mouths (or utilize our furiously fast-typing fingers in the case of negative online reviews) and close our ears. The result might be satisfying for the moment (I told him!). But in the long-term, it is still damaging and counter-productive to problem-solving. To avoid this culprit, taking a step back and coming up with a more constructive solution is a good strategy. 
Gail S. Bower President of Bower and Co. Consulting LLC offers some specific tactics to fight defensiveness. 
Step back from the review and resist getting defensive.

Evaluate whether any truth exists in the review. It's possible the customer raised an issue about which the business owner is unaware, and the review provides insight and an opportunity to improve.

Make the improvement and then talk about the improvements, including in the reply to the original reviewer.

If there is no truth to the review, it may be an outlier or a weak point in an operation.
3. Don't Take it Personally, But Make it Personal
Once you take a step back and breathe, it is time to get to work. But how you respond to the reviewer is very important. You don't have to take criticism personally to respond to it in a personable manner. Those golden opportunities we've been talking about start with showing your human and empathetic side. No one wants to hear generic apologies that look like they came from a robot. Instead, it's time to apply the magic of customer experience personalization. 
Emily Homrok of Shout About Us advocates for personalization in review responses. It's worth noting that every customer review – negative, positive, or neutral – deserves a response. After all, a customer has taken the time out of his or her day to write the review. Show that the company takes all its customers' interactions seriously by responding to reviews in a personalized manner.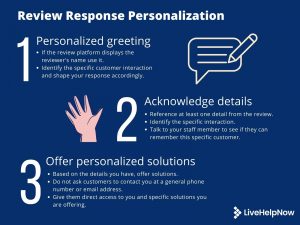 4. Act Fast. Lightning Fast! ⚡
In a world where business hours do not matter much and customers are online around the clock, businesses cannot afford to wait. If you postpone a response until tomorrow, there is a chance that potential customers will see the negative review before then and take their business elsewhere. 
Ruben Gamez, CEO of SignWell recommends monitoring online reviews, identifying details and solutions, and responding right away. 
"The message spreads like wildfire in this era," he says. "So act immediately once you have identified actionable insights. This indicates that you are genuinely willing to take ownership. Own up to your mistake and make sure you apologize sincerely. It goes beyond mentioning 'sincere apologies. 'Show, don't tell.' Show your sincerity by choosing to give a custom response. It makes a world of difference."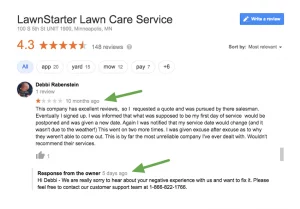 Image source: Gather Up
5. Do Magical Things – Listen, Change, Grow
Yes, some reviews are plain crazy. But even the nuttiest ones have a grain of…gasp! ????…truth to them! 
Listen, we get it. Negative online reviews are a pain to deal with, but they are also an invaluable asset. Here you have real customers telling you exactly what they want. Sure, they might not be saying it very nicely because they are still upset about the overcooked burger they had to endure. But at least they are telling you about it instead of quietly disappearing into the abyss and talking about you behind your back to their friends and families. (Because they totally will! Statistics show that a dissatisfied customer will tell between 9-15 people about their experience. On the other hand, happy customers who get their issue resolved, tell about 4-6 people about their experience.)
So listen. Listen carefully and learn.
Jake Smith, Owner of Absolute Reg LTD sets the goal to learn from reviews and take real action. This shows customers that the company is working hard to provide the best service possible, he says.  
"Our company takes negative reviews as opportunities to make changes that help us serve our customers better. We take any negative feedback we get and raise it to the relevant people or departments. From there, we work to find a solution so that we can minimize or eliminate the problem. If the issue is not an isolated case, we incorporate what we learn into our workflows."

Jake Smith, Owner of Absolute Reg.
Make Changes and Try Again
Jared Stern, CEO of Uplift Legal Funding, brings up a great example of this strategy at work. 
"Domino's received innumerable complaints regarding the quality of sauce, cheese, and crust in 2009. In an attempt to address them, it gave the world 'The Pizza Turnaround.' This was a documentary video involving actual employees of the Ann Arbor, Michigan branch. The video shows that the branch experimented with ten crust types, 15 sauces, and dozens of cheeses to change the product altogether. Domino's walked an extra mile, and door delivered these new pizzas to one of their harshest critics, Adrianne. This campaign worked because they were not afraid to tell their side of the story. They also shared reviews with their employees, making the entire process transparent."
Well, you know what they say. When life gives you Adrianne-the-critic, turn around and serve her new and improved pizza!
6. Improve, Update, and Show Growth
Remember newspapers? When a publication published something that was not accurate or made a factual or grammatical mistake, it would publish a correction in the following issues. Doing this in response to negative online reviews can show your audiences that your company can take responsibility, make changes, and grow from the experience. 
Ian Sells, CEO of RebateKey believe that review updates are powerful tools. 
"Properly handling the situation is usually enough for most to change or update their review. Keeping the exchanges and the initial poor review shows people your company's customer service and ability to handle difficult situations which can build trust and respect towards your company."

Ian Sells CEO of RebateKey.
This is also a great opportunity to show customer service efforts at work. 
"You can completely turn things around by not just responding to the customer, but by reaching out, getting more feedback on the instance and fixing it," says Jerry Han, Chief Marketing Officer at PrizeRebel "When you take the time to send a consumer a new product, a gift voucher for their net purchase or replace the faulty product, you make it clear to other potential consumers that no matter what problems they might face, you will fix it. 
In the example below, the flower shop owner responds with specific steps the retailer took to improve the situation. The reviewer might not respond or retract the review. However, the note shows potential customers that the shop takes customer experiences seriously. It demonstrates that the company will take responsibility and will try to make things right.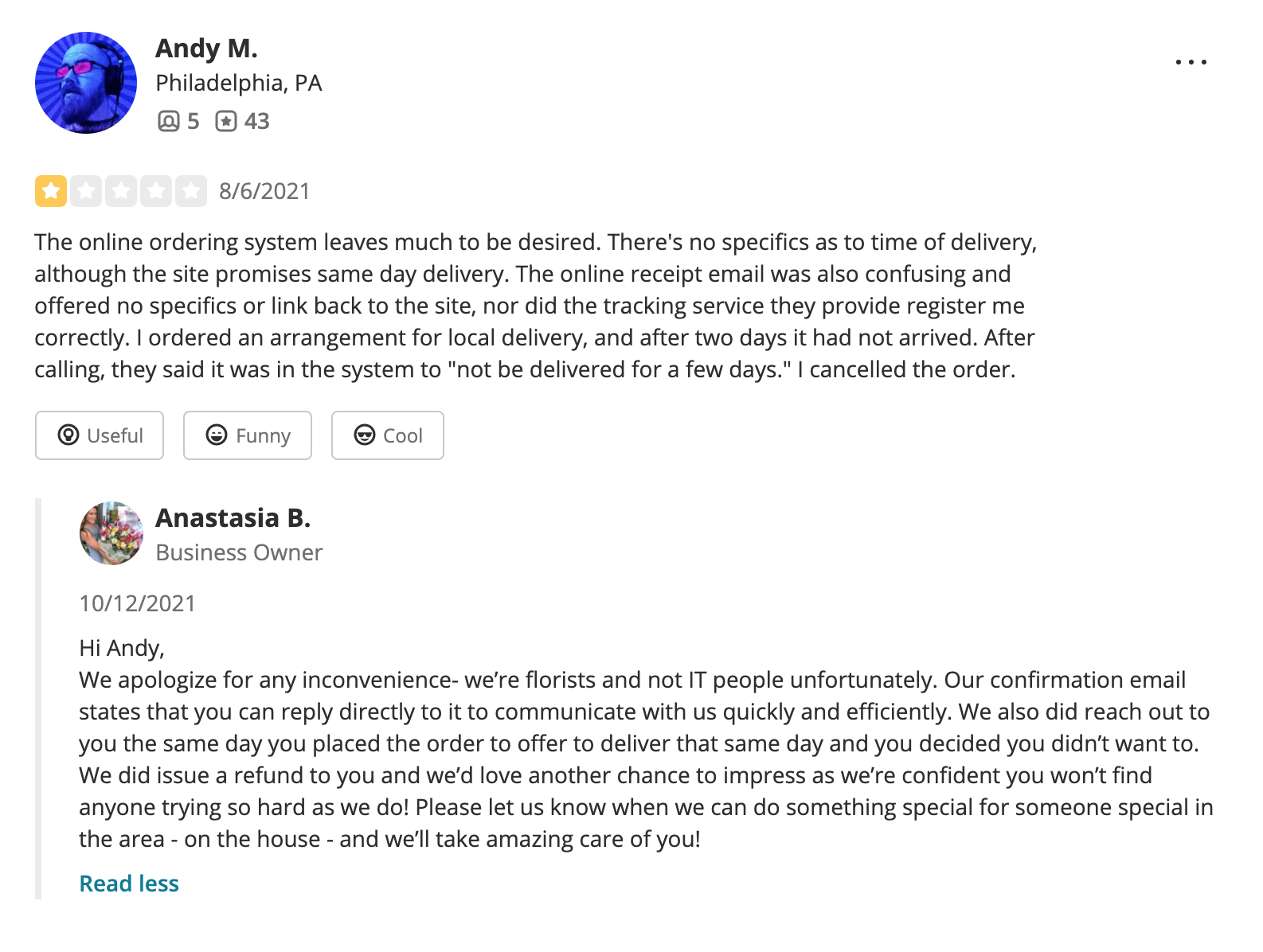 7. Accept Negative Online Reviews As A Cleansing Ritual
Like dating a person that is not a good fit for you, trying to do business with the wrong customer can be a gigantic waste of time. Not to go all philosophical on you here, but when one door closes you can always open a window.
Losing a customer that is not a good fit is a blessing and it's not even in disguise. When we spend a lot of our time and resources trying to please a customer that cannot be pleased we take away from making experiences better for our loyal customer base. 
Michelle Clarke, CEO of Empowerment Empires recommends taking a pause to recognize what made a negative reviewer not a good fit for your business. 
"New more aligned clients will come out of the woodwork and ask to work with you. This is an energetic phenomenon. As you release the clients who were never truly a fit for you, you create space in your life for better-aligned clients to come in.

To actively trigger this benefit from a poor review consider what specific traits and beliefs made this client a poor fit for your offer or product. Then, add the exact opposite of that trait to your ideal client avatar. The clearer you can be on the clients that you do want, the easier they are to find."

Michelle Clarke, Empowerment Empires. 
One excellent use for competitors: send your horrible prospective customers to them.

When people ask me again and again (rudely) for a discount, after establishing we are not a good fit, I list out a bunch of Bannerbear competitors and tell them to take a look.

— Jon Yongfook (@yongfook) August 19, 2021
8. Add a Little Comedy to the Mix
Everyone enjoys a good laugh. Making a joke out of a bad review is an art form and companies should embrace it. If nothing else, your response will stand out and make someone chuckle.
Popular fast-food chain Wendy's famously made a point of responding to customers with snappy comebacks on Twitter. 
the taste, the ingredients, the fact you don't have to say "Mc" in front of every word like you think you're fast food batman

— Wendy's (@Wendys) November 17, 2021
Jim Pendergast, SVP of altLINE advocates for humor as a publicity tool.
"Make a joke out of the bad review. For example, signs in front of an establishment claiming "here lies the place (customer) claimed he had the worst sandwich" have developed far more social media attention than simply replying to the bad review.' Jim Pendergast, SVP of altLINE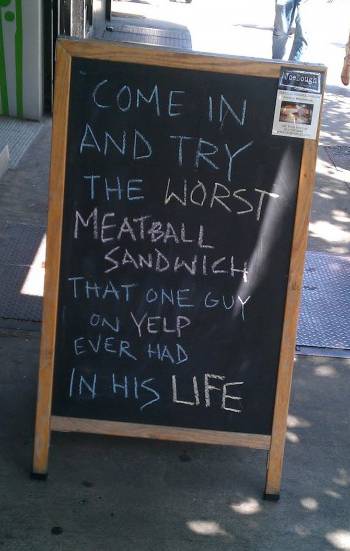 (Personally, I think "Always Too Loud" should become the new tag line for my friend's Taphouse. I hope she goes for it!)
Whichever way you choose to display your response to a negative review, if you implement some good humor in it, it is sure to attract some attention.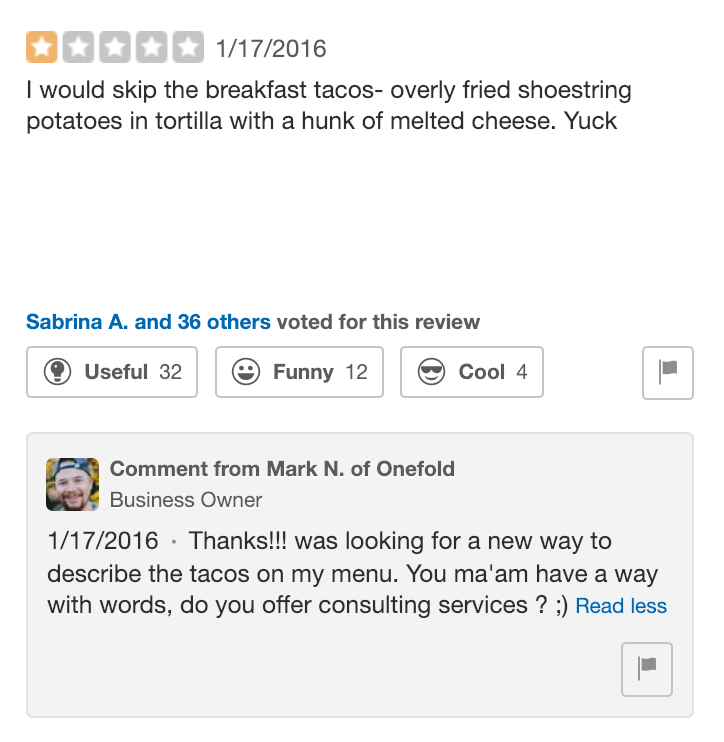 9. Glorify the Negative Reviewer
"Rename Your Product in Honor of the Reviewer." 
Dave Herman, President of EZ Surety Bonds came up with this unusual and quite unique response to negative online reviews. 
"There's no better way to get back at a bad reviewer than to specifically call them out using your products and services. You're also more likely to get attention from others in the market with your unusual names. If you're feeling extra ambitious, put their reviewer picture up on your wall."

Dave Herman, President of EZ Surety Bonds
Now, we talked about being snappy in the previous section. This is a whole another level of savage. And it will surely attract some attention in addition to some giggles from your customers. "Grumpy Karen Margarita", anyone?
10. Add Review Details to Product Descriptions
Like we mentioned above, negative reviews can provide insightful information to business owners from their customer base. Sometimes it might be a good idea to include some of this information in the product descriptions or other product information the company might have. That is especially valuable if the information has helped a company to improve a product and address the complaining customer's pain point. 
For example, let's say a business owner complains that a software product does not properly integrate with her own Customer Management System. Then, let's say, the software company addresses the issue and takes steps to make sure the integration works in the future. The next step is to now create an article or mention the positive change in the software description. 
By the way, LiveHelpNow recently implemented some new CRM integration features that help companies get real-time customer feedback from their customer service communications. We did that in response to customer demands. Make sure to check them out! (See what we did there? ????)
[fullcontrol title="Got negative reviews?" subtitle="We can help you get them customers back on your side!" linkurl="https://livehelpnow.net/schedule-demo/" linktext="Schedule a demo to learn how!"]
Coty Perry, Chief Marketing Officer at Your Bass Guy, a fishing guide company that also provides third-party product reviews. He gives an example of this strategy at work within product reviews themselves. 
"The world of fishing is a tough one with a lot of scrutiny. So we often receive negative feedback on our reviews and people pick apart each detail we provide," he says. "One thing we always do is take the potential customers opinion and highlight it in our review. If we said something positive about a product but the reader highlighted something negative, we add it to our review. It makes them happy and helps provide a more unbiased review."
11. Up your game with higher-level products 
Another way to embrace negative online reviews is to use them as an opportunity to up-sell and cross-sell products. 
Michelle Clarke, CEO of Empowerment Empires has another piece of great advice.
"You can showcase your other products and make new sales. Suggest a way that the complainer could work with you at a higher level (and pay more money) to get their desired outcome. You won't always convince the complainer, but you will show everyone else who reads your comments that you care about your customers, that you are solutions-focused, and that you have what it takes to help people get what they want."

Michelle Clarke, CEO of Empowerment Empires.
Sam Price, Founder of Heatable explains that sometimes customers do not use the product correctly, resulting in the undesired result. In this case, it's important to kindly explain to the complainer – and other review readers – that there is a better way. 
"Don't panic when a customer goes online to say how your product kick-started her adult acne again. Apologize, and gently remind your customer that the product in question isn't meant for all skin types, as is advertised on the site. You could then suggest another product that may soothe the problem or be better suited for her skin.

You could also take things a little further by asking your customer to reach you by email with pictures of her problem so that you can send her something that may help with the problem for free to apologize for the situation. Again, a gesture that shows you're in this business to help your customers and not just to close sales. To a new customer, this displays a stellar after-sales experience!"

Sam Price, Founder of Heatable.
12. Bring in the Reinforcements – Your Loyal Customers Army
Whatever negative Nancy's of the internet use to attack you, you do have a secret weapon – your loyal customers. 
"Nothing beats counterarguments and comments from your own loyal customers," says Ian Sells of RebateKey. "Bad reviews give your supporters the opportunity to back you up. Lurking visitors will likely read your loyal customers' comments defending your company, attracting more customers to your business."
So take that negative review and post it on your social media. You might be surprised to learn how many cheerleaders you have in your corner. 
Aaron Weiche of Gather Up brings up the following example of customers defending a business. Through Facebook reviews, customers complained about the service they received at a restaurant under previous ownership. Once new owners took over and improved the restaurant, happy customers took it upon themselves to defend the business.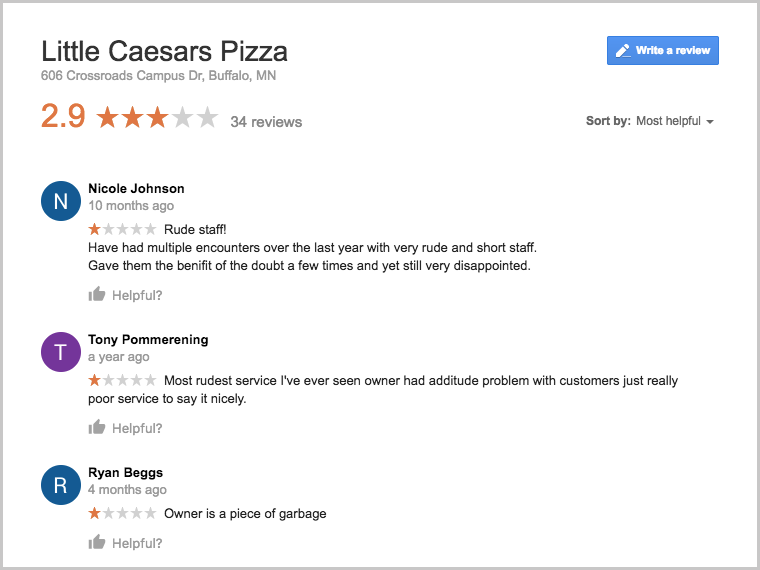 13. Turn Negative Online Reviews Into Case Studies
Case studies and customer success stories are worth their weight in gold when it comes to content marketing. So it only makes sense to take on the negative customer experience of a reviewer, turn it into a positive one, and then report the results to the internet world. 
"Brands should address negative online reviews so the commenter can retract their comment and give positive feedback on your excellent customer service," says Johannes Larsson CEO of Financer.com. "When prospects and potential customers see that your brand offers superb post-purchase service, they are more likely to purchase from you than your competition."
Once the once unhappy customers are satisfied with the follow-up service their receive, work with them to create a full-blown case study. Include numbers, images, quotes, available types of marketing reports, charts to visualize and present your case study betterPeople love a good turn-around success story and there is no better place to find it than among your clitics. 
14. Add Negative Online Review Details to Your FAQs or Help Pages
It's well known that FAQ and help desk pages can help with SEO. If enough customers have similar issues with a product or service it might make sense to include information that helps on your website. 
Brad Touesnard, CEO of SpinupWP advocates for powering up your help pages with information from negative reviews. 
"When we first launched our company, we received occasional negative feedback because our customers lacked information about certain aspects of our product," he says. "We responded by creating help pages on our website to address our customers' needs. Here we take our customers through the steps of getting started with our product and address the common issues raised in the feedback we received. Our help pages are now one of the most trafficked pages on our website and our recent reviews often mention how useful they are."
Zachary Hoffman, CEO of DigitalPR.com explains further. 
"You can turn customer complaints into material for your FAQ section. Many times customer complaints are due to them not fully understanding how to use your product or not fully reading the description. These complaints can be used to create or update your FAQ section or even add more details to your product descriptions. While it won't erase existing negative reviews, it can prevent more from being written in the future."

Zachary Hoffman, CEO of DigitalPR.com
15. Make a Tutorial
As an extension of the help page content, you can also make a step-by-step or video tutorial. 
Jessica Zhao, Chief Marketing Director at Spacewhite expands on the benefits of this practice. 
"Sometimes a customer doesn't read the instructions and accidentally misuses a product – then leaves a bad review!" she says. "They might say something like "I put the tablet in the top rack of the dishwasher, and it failed to clean my dishes adequately!" If they illuminate their mistake in their review, feel free to grab a copy of that review and create a helpful, and non-judgemental tutorial which details how to properly use the product. Not only will the tutorial aid future customers, but the brand comes across as humble and helpful."
16. Create An Ad Campaign Around The IssueMentioned in The Negative Online Review
Creating a whole campaign around an issue and advertising it can help turn negative reviewers into happy customers.  
Marina Vaamonde, Founder of PropertyCashin recommends creating a digital coupon and adding some creativity to it. (Perhaps, combining this strategy with the naming one we mentioned earlier can make the negative reviewer smile.)
"Create a coupon or sale around your solution to the bad review and give it a clever name. On your social platforms, post the bad review and a link to your solution article. Advertise it and your coupon or sale, celebrating your solution. Go back to the review and thank the person publicly, reiterating your solution and offering them to take advantage of your new campaign."

Marina Vaamonde, Founder of Property Cashin. 
Negative Online Reviews Are a Gold Mine. 
Negative reviews are scary. But if there is one thing I'm trying to convey in this article it is that these reviews are valuable. Each one can bring a different value to the business owner – from legitimate concerns customers may have to opportunities for humorous – and attention-getting – comebacks. 
Sociologist Brene Brown once said, "When you own your story, you get to write the ending." Customer reviews are like stories. And if companies embrace them fully, they do, quite literally, get to write the ending. 
So, go ahead. Listen to your customers. Improve your products and services if you need to. Make a joke, or create helpful content for your audiences. And thank your reviewers. Because if it weren't for them, you might never have known that you were "Always too loud."