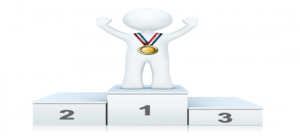 With the 2012 Olympics opening tomorrow, pressure is stacked on London to make the experience successful and memorable for all involved. Among the many responsibilities shouldered by the Organising Committee is that of brand protection, meaning they must censor all advertisement from companies other that the Games' top sponsors.
Coca-Cola, a sponsor now for 83 years, has mastered the art of large-scale campaigns. This year, it's adopting a social media tactic, drawing on their customers' personal stories to relate to their audience, and relying on that audience to spread awareness of Coke as a 'feel-good' brand. See details of their campaign here.
Though the exact numbers are kept secret, the soft drink company must be spending many millions of dollars to produce and distribute its content. For what result? The biggest sponsors of athletic events (spending at least $15 mil each year) typically see a 22% increase in net income.
You may not be Coke, or any other multimillion dollar company with the Olympic rings splashed on your ads, but you can let their campaign coach your efforts in raising brand awareness for your business. Using your website as a marketing tool is a cheap but effective way to build brand loyalty.
Here are three tips for taking the Gold in brand awareness:
1. Be Unique
Let customers know that you're not generic. Customize all aspects of your website to fit your brand, including contact links, page tabs, and chat buttons – all things that usually come standard with a site template or installed software. Tweaking them to match your company persona makes you appear more organic, more authentic, and therefore more trustworthy.
Feature customers' personal testimonials to add credibility and a human touch to your site.
2. Engage Prospects
Even when your name becomes recognizable, building your reputation never ends. One way to keep your cred up is to stay on top of customer service. When a prospective buyer visits your site, make sure to tend to them. Reach out, answer questions preemptively, and your chances of retaining them shoot up. Visitors usually need to be exposed to your product six or seven times before committing. Taking the time to answer all inquiries will show consumers you're there for them, which can do wonders to boost word of mouth advertising.
3. Utilize Analytics
In their Olympic endeavor, Coca-Cola is targeting the youth audience by connecting to teens through social media. By analyzing who the majority of your visitors and where they come from, you can focus your marketing efforts, choosing the best channels of communication to reach your most likely customers. Facebook and Twitter may be most effective, or you may go the route of email marketing or blogging to raise awareness.
Conclusion:
With the ability to reach out to prospective customers and track visitors while promoting your brand, customer service software may be the key to boosting your business's reputation.