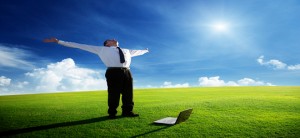 Customer service is a kind of job that takes up a lot of time and energy. And because of the nature of the job, it involves plenty of human interaction.
Now that's all well and good for a big company, or even for a small business. But what if you are a single person business, or a solopreneur? You can't afford to spend the entire day on customer service, can you? You have to wear a number of hats: manage sales, marketing, operations, invoicing and training.
Where's the time?
Thankfully, there are a number of ways for a solopreneur to provide a level of customer service that matches, or even beats that provided by the big boys. Thanks to social media and cloud services there are a number of services (both free and paid) that can take a lot of load off your shoulders and make you lot more productive and efficient.
Let's dive in.
1. Use free tools like Tweetdeck and Google Alerts
Social media channels are still the best way for a solopreneur to respond rapidly  to customer service issues. But don't use plain old Twitter or Facebook to get things done- use a client like Tweetdeck to set up keywords related to your company or your industry, and keep an weather eye out.
You can extend this concept by setting up Google Alerts for your company or brand. This will alert you to relevant chatter on the larger web- third party blog posts, news sites, forums and question answer sites like Quora.
2. Use a ticketing system for customer emails
While you can use your business email to respond to customer queries, a high volume might necessitate using a ticketing system to improve the workflow, save time and prevent you from reinventing the wheel by needing to tackle the same issues over and over again.
A ticketing system will also simplify your life, give you an insight into commonly raised customer queries and save you from having to dig into the archived emails every now and then.
3. Delegate and outsource
Delivering excellent customer service means not only troubleshooting and putting out fires, but also improving user experience and interaction with your products or services. The former can be done by others with appropriate training, while the latter can be done only by you.
One increasingly common solution to save time is to  outsource routine and repetitive tasks to virtual assistants. Create systems and processes for them to handle routine tickets and customer service jobs so that you can work on critical issues. Check out this guide on appointing the perfect VA, and also read this awesome post on Tim Ferriss' blog about how to communicate efficiently with VAs.
4. Establish systems and focus on self service
Whether it's 2 customers or 2,000, you have the same amount of time on your hands. In such a scenario, it's vital that you take yourself out of most customer interactions and focus on doing your core job. But your customers and prospects will have questions, and a right to answers.
Solve this by creating self help options like FAQs, videos, demos or other types of content that focuses on answering these queries. Another way to efficiently manage your time is to create systems and processes on a fire and forget basis that does not need constant human attention. Two examples are thank you emails and autoresponders.
Also check out our previous posts on creating a great FAQ or knowledge base.
5. Set up expectations and meet them
Customer service should not be always about software and systems and jargon. It's simple things like working according to a set routine, set up fixed blocks of time regularly for talking with customers (Craig Newmark of Craigslist does that), setting proper expectations for your product or service and then making it a point to meet them.
And remember, the best sign that you're delivering great customer service is when you have to provide zero customer service.
Conclusion
As a single business owner, what are your tips for providing great customer service?