If you look at a prosperous business model you will notice two factors contributing the most to its success, satisfied customers and happy employees. Experiencing a higher turnover is devastating for any organization and so is regularly losing customers. It just so happens that there's a link between employee and customer retention. 
If you are creating a robust customer retention plan and ignoring employee satisfaction, your plan is destined to fail. As per statistics, the cost of customer acquisition is 5x times higher than the cost of customer retention. Similarly, a study shows if a job is not filled in the first 30 days there is more than a 57% chance that the vacancy will remain open for 2 months or more.
So, let's dive in to discover smart ways of retaining customers and keeping a highly satisfied workforce. 
How to Improve Employee and Customer Retention Rates
The statistics reveal that the chance of closing a deal with an existing customer is around 60-70% whereas that of a new customer is only 5-20%. Customer retention involves creating a strategy that not only covers communication style with the customers but the overall brand image and how it influences the buying decision. In many ways, employee retention is the same.
Here's how you can inspire loyalty in both customers and employees.
1. Identify Value-Based Motivators for Employee and Customer Retention
A survey by The Society for Human Resource Management revealed that by providing value-based rewards companies can generate higher employee and customer retention rates. Value-based rewards, together with specific set goals and targets, can increase engagement in both categories. 
Make being an employee fun
It's important to create challenges for employees to achieve the reward. So, instead of offering them smaller rewards, which would require less effort, and go for something big. Make them challenge their skillset. It could be a competition or a game of some sort. 
At LiveHelpNow, for example, we integrated a KPI-focused challenge for customer service agents into our software. Agents compare their performance against other agents. The results show up right in our Agent Workplace.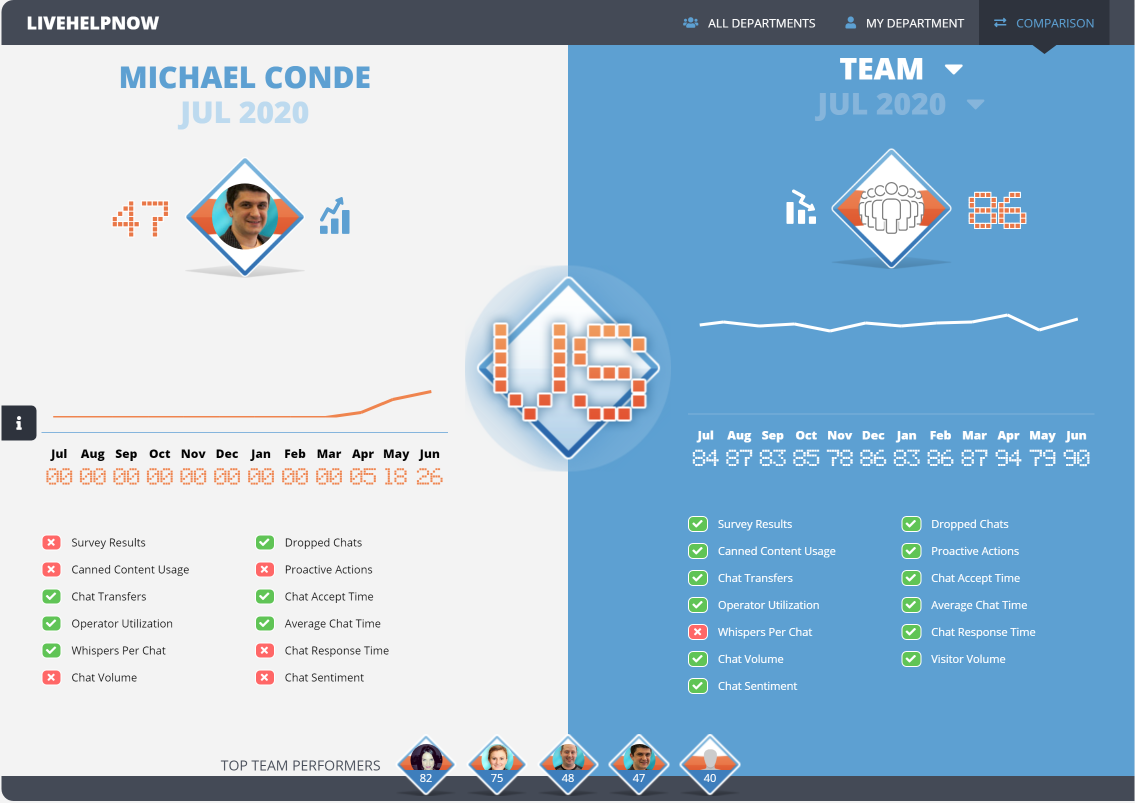 The feature is so popular, some contact centers even display the dashboards with the results of the challenge on large screens for all agents to see. This makes competition even more fun and engaging.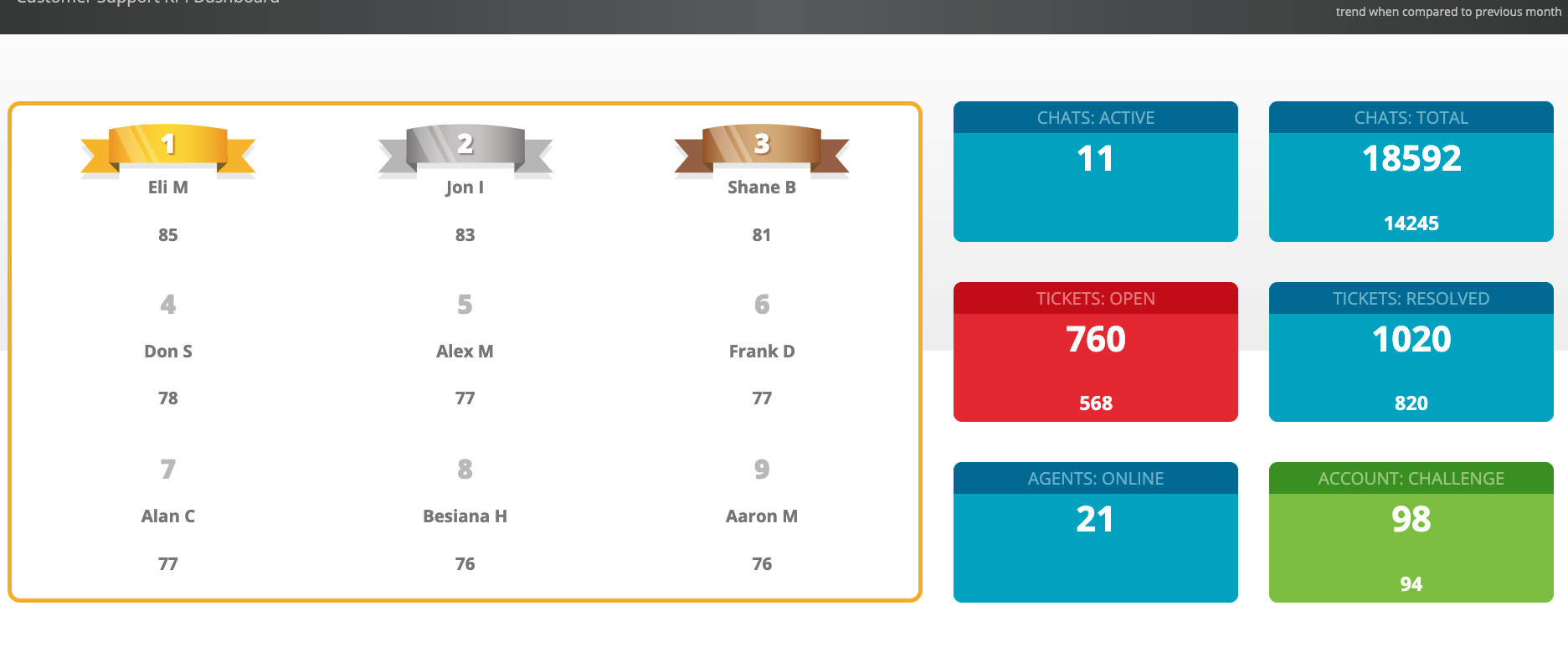 What works for your people?  There are some general employee engagement techniques that can apply in any industry. However, finding out exactly what works for your team and engages your employees is an important step. What works for one company, might not for work for another.
Make being a customer fun 
In the same spirit, companies need to find out what motivates their customers. According to statistics, there's a relation between coupons and customer loyalty. Companies can persuade customers to stay around with deals and discounts. You need to plan some seasonal promotional campaigns, be it birthdays or any festive coming up. The more personalized the offers are, the better results they will produce.
Beyond deals and discounts, a sense of community is another factor that motivates buyers. Think of how Apple customers are loyal to a fault with their preferred choice of smartphone vendor. The tech giant has managed to create a large community around its product, where customers feel like a stakeholder of the company. This is something brands aspire to achieve. 
(We could bring many examples of happy Apple customers here. But we think this one is the cutest.)
Newest @Apple product!! #loveApple ???? pic.twitter.com/W3RFDi9zZ4

— Gintare (@Gintare_nescol) February 21, 2018
2. Build Connections and Keep Them Strong
According to case studies, your mode and means of communication can bring a huge impact on your sales. You need to stay in touch with your customers to know what issues surround them and how you can be helpful. Give them suggestions, guide them and stay loyal to them.  You need to make the customer feel valued by being genuine, empathetic, and supportive.
Here is what happens when a company follows up with a customer. 
Outsurance is such a pleasure to work with. My house, home content & business are insured with them. Ive never had any issues. I love how much they follow up on claims etc, such a smooth process. Im now considering moving my car to them @OUTsurance happy customer over here????????❤️

— Chemist and druggist (@SipokaziLilitha) October 21, 2021
Take a similar approach with employees. Be there for your workers in tough times and they will always remain motivated and loyal. For instance, PepsiCo compensated employees who were in quarantine due to COVID-19. It paid them for the entire 14 days isolation period. Teh company even assisted employees who had to look after their children due to the closure of schools and daycares. 
Even in normal circumstances, companies should seek to create an environment where employees can openly communicate with the management without any fears of repercussions. When workers are assured their opinion is being heard and valued, their connection with the organization becomes even stronger.
3. Keep Things Fresh to Avoid Burnout
When you read about the perks of a job, you expect a long vacation, health insurance, and maybe a house allowance. These are the perks that contribute a great deal to the performance of your employee. However, you also need to tap on that one factor that leads to demotivation. A monotonous working environment and predicted tasks are the factors that create dullness, boredom, and eventual burnout among the employees. 
Taking care of employee wellbeing is a crucial part of being a good manager – here's 4 ways to avoid employee burnout and boost your team morale!#WorkLifeWeek pic.twitter.com/17406Zq9TP

— DarlingtonSpace (@DarlingtonSpace) October 14, 2021
Customers have similar attitudes towards a brand. If you don't bring any innovations and ingenuity into your business, they will ditch you for competitors that are offering something new. You could keep things fresh by changing the color of your packaging, introducing upgraded versions of older products, or targeting customers through new channels.  
There would come a time when the novelty would eventually wear off and this is where you need to experiment some more. The only constant in your branding strategy should be 'change'.
4. Maintain A High Level Of Transparency
It's important to ensure transparency whether it's about communicating the company's policies with employees or discussing any changes with customers. 
It is vital to stay transparent with the workforce and to highlight their achievements and appreciate their performances. Conduct weekly meetings to keep the workforce on the same page along with using huge wall-mounted boards to appreciate the best performer. 
Any new development that will affect employees should be clearly communicated to them. Of course, the company should define boundaries of transparency as some information should remain confidential. 
When it comes to customer transparency, being more open about your prices, results and products is always a good strategy. Let customers know what they should expect from you in return for their money.  Customers appreciate brands that are honest and straightforward with them. 
The Integral Link Between Employee and Customer Retention
Your workforce is the backbone of your business without which you will not be able to move an inch. Your revenue generation, online visibility, and everything that contributes to success are linked to your employee performance. Similarly, no matter how big of an organization you run, if your employees fail to keep your customers satisfied, the doom of your business becomes inevitable. 
This is why employee and customer retention go hand in hand. Both of these factors should be strategically planned.