Email forwarding from within our System has been essential for customers to stay up to date with the Status of their Tickets, Track Statistics, and review Chat Transcripts. The benefits have been great- but they just became even greater! Create a Mail Profile so that your email responses can come from your own personal email addresses.
So how do I Set it up?
Admin Panel » My Account » Mail Setup
Creating your own Mail Profile will allow you to choose your own personal Mail service- whether it be GMail, Yahoo, iCloud, Outlook, Hotmail etc. We also have the option to enter a Custom email Service- where you will enter your own Outgoing Mail Server Domain and Port so that setup is quick and simple.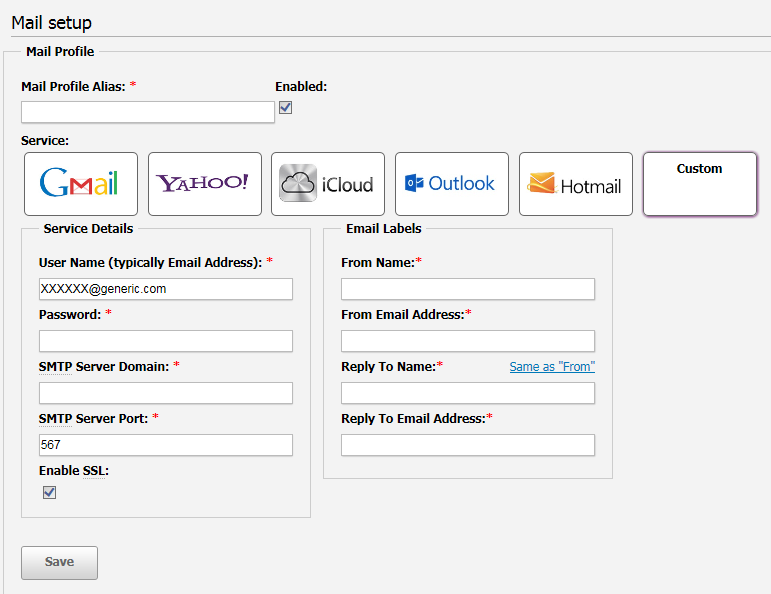 What are some of the primary Functions?
For Chat:
You will have the capacity to set up multiple Mail Profiles. For example- you can have a variety of profiles for different websites. Once your Profiles are setup, you can begin to customize your Chat Windows. Admin Panel » Chat system » Customization » Chat Window. Once you have chosen which window you would like to edit- you will notice at the bottom the checkbox to "Use custom mailing profile". Here is where you can choose the profile(s) that you want to correspond with this particular chat window.
For Ticket:
Ticket » Customization » Email
Here you will notice a drop down for your Mailing Profile as well- where you can choose the profile(s) that you would like to correspond with your Tickets.
What is the purpose of setting up a Mail Profile?
We have found that customers prefer to have as much personal branding as possible- which is understandable. Every opportunity to market your business/name either with a signature, graphics, logos, or billboards is a way to grasp the attention of a customer and leave an impression. Why not extend that into your email responses as well? EMail Profiles are just one more way to personalize your communications with your customers!