Customer service can make or break you. It's important that your business has a stellar team of customer support professionals ready to field the questions and issues plaguing customers. But its equally important to have a ticketing system in place. 
With the right ticketing system and internal processes at the ready, you'll be able to handle customer support requests quickly and efficiently. 
And, really, those are the two biggest challenges for any support team. 
This ultimate guide to customer support ticketing system processes will present 12 best practices for across-the board improvements. Then, we'll recommend five of the very best customer support ticketing platforms on the market today. 
12 support ticketing system flow best practices for improving customer support
The following best practices represent practical customer support ticketing advice. They'll help you tighten your turnaround times and provide more efficient responses to customer requests. 
Here they are, in no particular order. 
1. Don't hide your support page
Customer support has to start somewhere. More often than not, that initial channel is your website. But your support pages shouldn't hide. 
The support portal should be something that's immediately visible when someone accesses your homepage, above the fold.
Pumpkin, a pet insurance company, does a great job in putting its support page out in front of the user right away.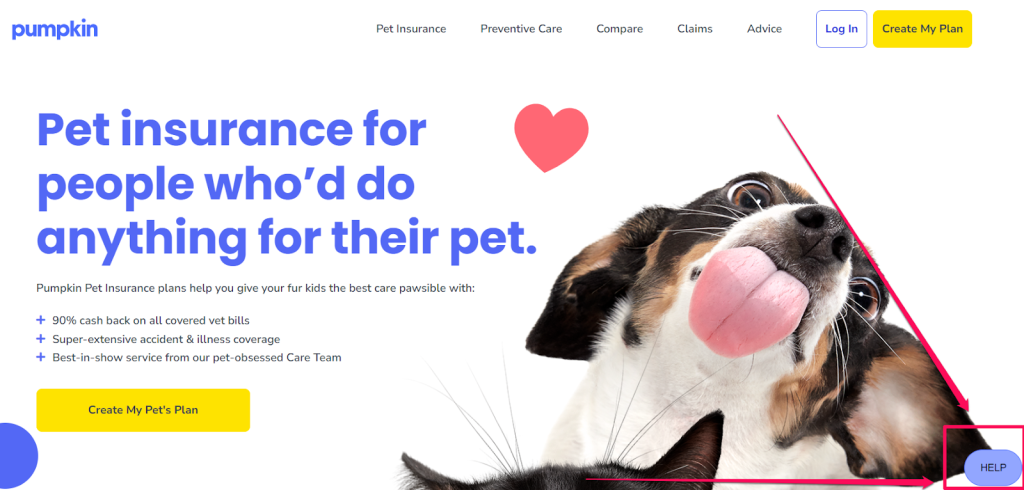 The help button is in the lower right hand corner of the page. It doesn't interfere with the overall theme or design. However, it's also in a spot that draws the eye. The image of the dog on this page (which is adorable) has its ear pointing right at the Help button. 
As you start to scroll, that button is the only static element on the page. No matter where you go or what you click on, the Help button remains in the same spot. The top menu doesn't even do that. 
What does that mean? 
Pumpkin is creating an easy access point for customers. That makes help and support infinitely more accessible. 

Additionally, Pumpkin takes support inquiries through multiple channels. In this case, there's phone, email, and live chat. 
2. Make the ticketing system accessible
Incoming tickets happen when customers reach out to a company to voice their complaints or seek assistance with a product or service. 
To guarantee equal access for all customers, including those with disabilities, the information contained in ticket confirmation emails must be accessible to everyone. 
But how can you make your support messaging more accessible?
By using resources like a WCAG compliance checker, companies can verify whether emails are accessible for individuals with disabilities. This includes, for example, visually impaired customers.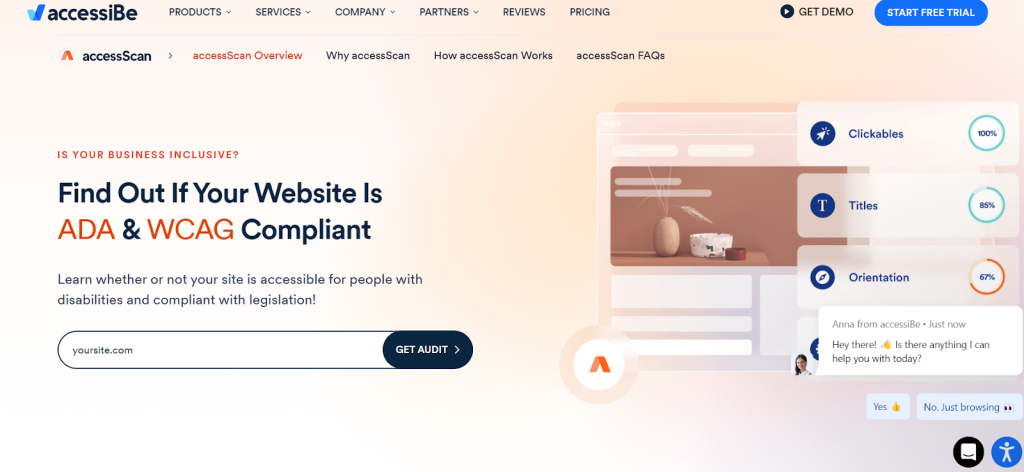 They must be able to access and comprehend the information you send. For instance, visually impaired customers rely on screen readers to interpret the content of emails. 
Making sure that support emails are compatible with screen readers adheres to WCAG guidelines and guarantees that everyone can access and understand the information. 
A failure to follow accessibility guidelines can tank your efficiency and incur penalties like fines from governing bodies in your service areas. 
3. Assign priority levels
When customer tickets come in, you need to organize them. But not all customer support tickets are equal. 
Tackling them in a first come, first-served way might seem like a fair option. But some support requests represent massive issues that require immediate attention. 
That's why you should assign priority levels as requests come in. Something that needs immediate attention would be a high priority ticket. Then you have medium and low priorities below that. 
So, what's an example of a high priority ticket? Someone who's irate and threatening to cancel their purchase would be a high priority. If a customer believes someone hacked their account compromising their payment information, that would also be a high priority support case. 
Meanwhile, something simple like a request for business hours would be low priority. Support agents can take a little more time responding to tickets like this. 
4. Use automation platforms
Nothing bogs down support ticket response times like soul-crushing repetitive tasks. Absolutely no one likes to spend their workday performing the same simplistic acts repeatedly. 
Thankfully, advancing technology has helped in that regard. You can use automation platforms to accomplish some of those tasks. That frees your human support agents up to handle more complex and engaging support issues. 
This tactic not only creates healthier and happier support agents, but it also helps tighten your support ticket response time. 
Some of these automated tasks can include:
Ticket routing to agents

Compiling analytics

Conducting customer support surveys to gauge customer expectations and satisfaction once tickets close
5. Train your agents well
Your support ticketing response will only be as good as the team you have. And your team is only as good as the training you provide. 
Develop a training guide for all new hires. That'll guarantee your support agents receive the same information and are held to the same standards. You can edit and update those guidelines over time. Just keep all training consistent so support agents can hit the ground running. 
6. Use message response copy templates
When support agents are going back and forth with customers, they can save a lot of time with message response templates. 
These are great for some of the more common low priority tickets that come through. You're sending a proven, tested response with a little personalization. That can include adding the customer's name and referencing something about their particular situation. 
Creating these templates will save time when handling lower priority tickets. That frees your agents up to dedicate more time and energy to high priority complex issues. 
7. Have a knowledge base and encourage self-support
If a customer can help themselves through self-service options, it'll decrease your support ticket volume and create a more efficient system. That means shorter response times, higher quality support, and happier customers.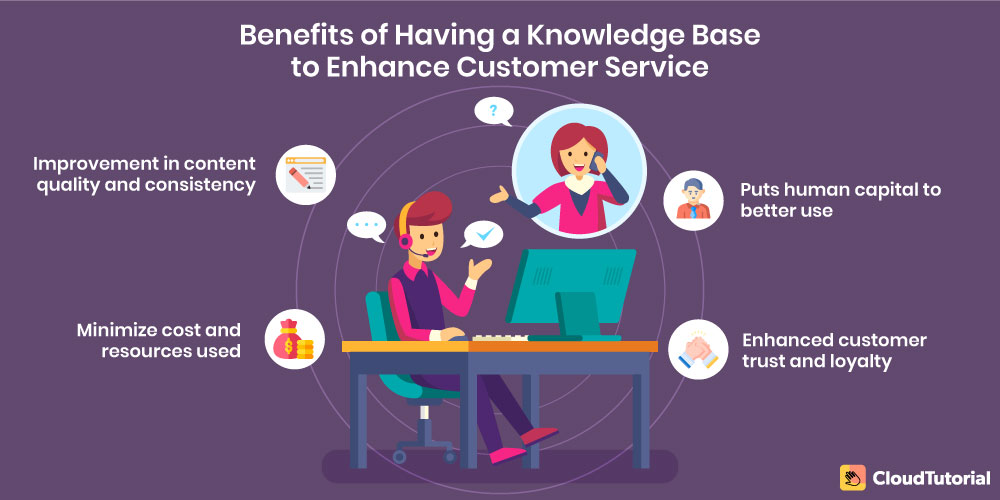 It's why so many companies put time, energy, and money into creating a knowledge base. This library of informative self-service articles can help customers find solutions to some of the more common issues that pop up around your services. 
By making this information readily available, you're improving the user experience and customer journey. 
By integrating a self-service business intelligence tool with your ticketing system, you can enable customers to ask natural language queries. The system will then generate instant insights from your knowledge base, FAQs, and other resources. 
This tech can reduce the number of tickets you receive, while improving customer satisfaction and loyalty. 
When a customer submits a ticket, the tool can analyze what they're saying and offer knowledge base resources that might solve the problem. The customer can then review these recommendations. If they still need help, they can continue sending their ticket. 
8. Connect a CRM
If you want to provide excellent customer support, CRM software offers great ticket management capabilities. You can create tickets, track metrics, and much more when you implement one of those platforms. 
CRM software enables customer support teams to efficiently handle customer inquiries, maintain a record of interactions, and guarantee consistent personalized support.
 By implementing a quality CRM platform, you can: 
Assess customer support needs by evaluating your support requirements 

Define your ticket categories and priorities

Customize the CRM software to match your ticketing system requirements (ticketing workflows, defining stages from ticket creation to resolution, etc.) 

Integrate communication channels to capture inquiries in real-time and centralize communications

Watch and track tickets

Foster collaboration and knowledge sharing

Measure and improve performance through analytic reporting
9. Use AI 
Using AI voices in your customer support ticketing system can be a game-changer. 
Instead of customers waiting in long phone queues or trawling through FAQs, AI voices can deliver immediate, personalized assistance. 
Powered by advanced speech recognition and natural language processing, these AI voices can listen to a customer's problem. It can then comprehend the issue and provide an appropriate response. AI voices are also capable of capturing vital information from customer interactions and automatically updating support tickets. 
This feature removes the need for manual data entry, making the process more efficient. Additionally, you can program AI platforms to work around the clock. This makes sure that no customer query goes unanswered.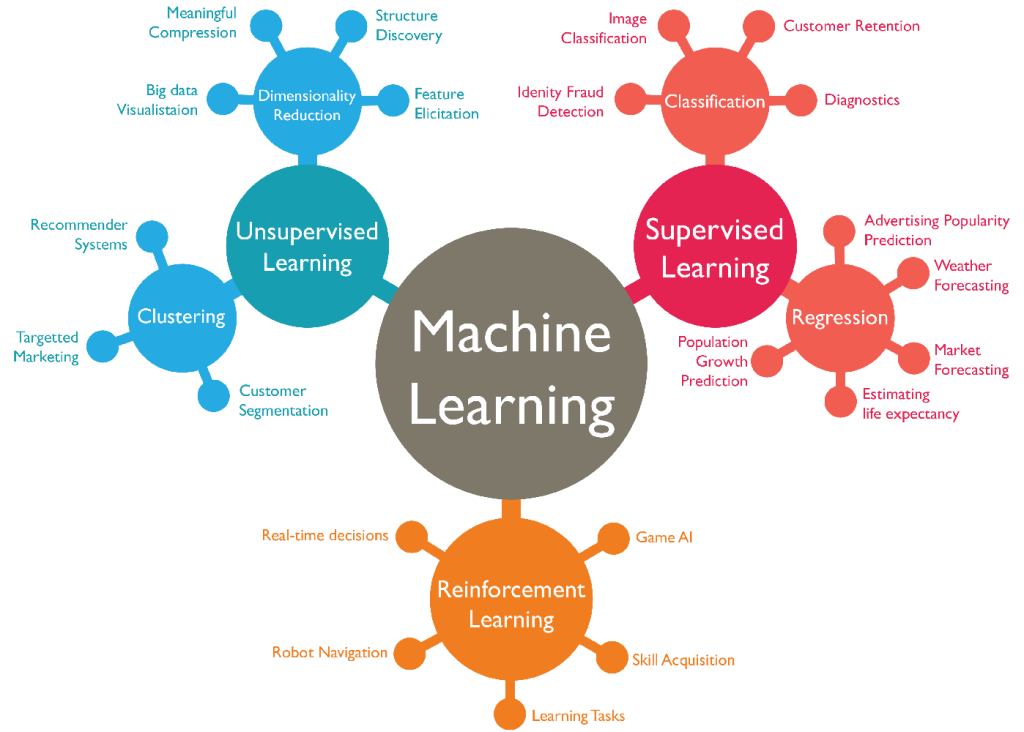 With the power of machine learning, your AI tool will get smarter over time as it comes to know your audience and their preferences. That advancement not only creates an opportunity for 24/7 support, but it frees human support representatives up to handle more complex high-priority issues.  
10. Track ticket history
By keeping a record of all support tickets, you can identify major issues plaguing your customers. This insight can show you where there's room for improvement within your company. 
If there's a major influx of support tickets about your e-commerce checkout process, that means there's a common issue popping up to address. 
Then there's individual efficiency. When someone submits a ticket, you can see every other ticket they've filed in the past. 
11. Provide support to the support team
Your support team needs to know that you have their collective back. You can show this by supporting them and providing the team with all the help it needs. 
That includes knowledge base resources, automation tools, analytic data, and more. It also means they know that if they need to escalate a situation, supervisors and managers will be ready to back them up and hop on a call. 
12. Track your metrics and make improvements
The only way to constantly improve your support system is to track metrics. Check your average response time, customer survey results, lost business, etc. That'll give you a clear view of where you are as opposed to where you need to be. 
A quality support ticket system will compile this data for you automatically.
Top 5 support ticket systems 
One of the best ways to keep your support processes running efficiently is to implement a quality support ticket system. 
Here are five of the very best options on the market today. 
1. LiveHelpNow
LiveHelpNow is a support platform that helps you bring the power of omnichannel communication to its customers.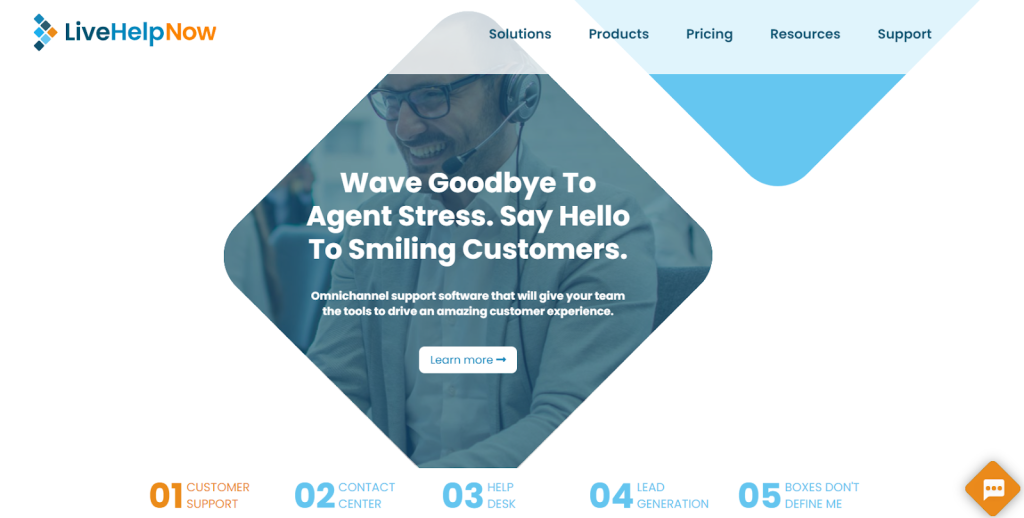 That means the system creates opportunities for customers to reach you and converse with your staff from any device. The information discussed with live chat reps will be accessible to phone reps, email responders, and any other communication point. 
You'll automatically categorize chat conversations by topic. The system even comes with an AI chatbot built in. You can use LiveHelpNow to generate analytics in real time. It can also integrate with essential tools and resources like your CRM or knowledge base. 
A real-time language translator backs up all these impressive features to break down language barriers. 
2. HelpScout
HelpScout is a customer support tool that comes equipped with many valuable features.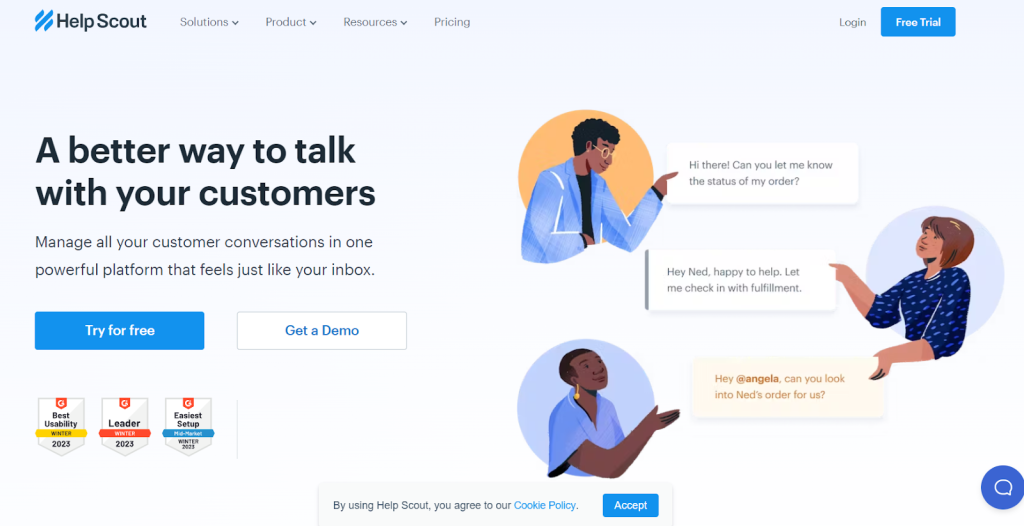 It creates a shared inbox for team collaboration and customer communications. The system also sets up workflows and automatically generates responses when customers file support tickets. 
Many businesses use HelpScout to generate a knowledge base. It can even keep track of analytic reports to improve your processes over time. 
3. Zoho Desk
Zoho Desk comes as part of the Zoho business suite of tools.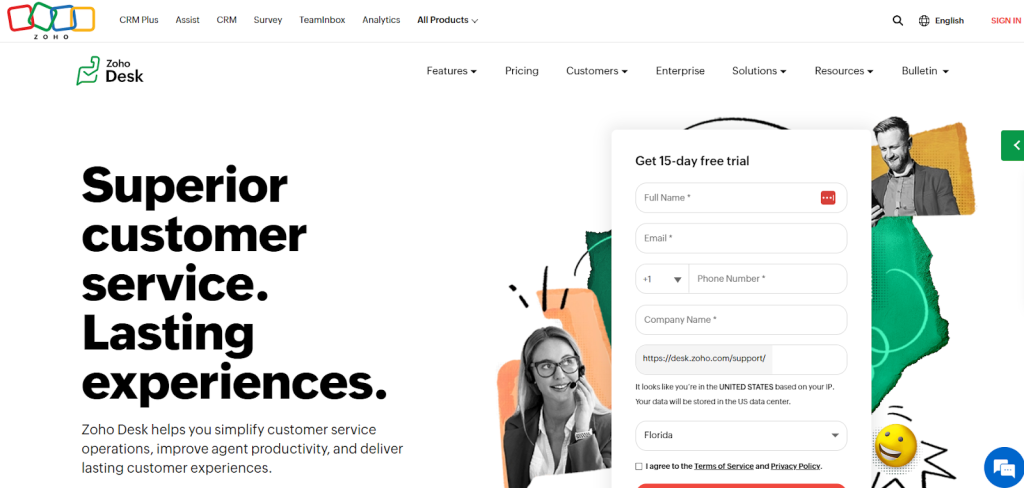 This suite also includes a CRM, accounting software, and more. If you're not using the other tools, this platform might not be right for you. 
It integrates seamlessly with its sister software platforms and allows businesses to create a self-service portal. That can include a knowledge base and an FAQ section. Zoho Desk also creates a central inbox for responding to messages from multiple channels. 
4. HubSpot Service Hub
HubSpot Service Hub can function on its own or in conjunction with other platforms in the HubSpot suite of services.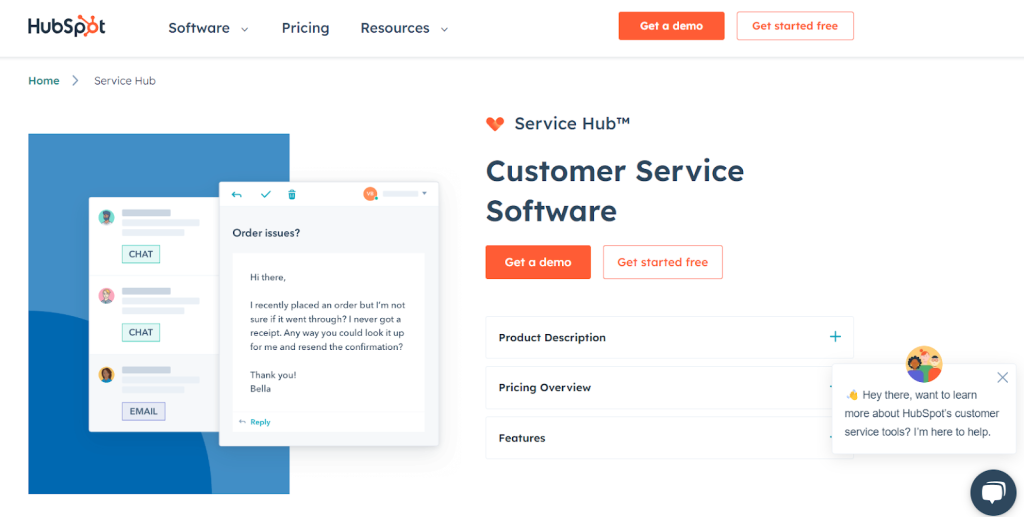 If you're already using the company's marketing and sales tools, you'll have an easy time integrating the support system. 
HubSpot comes with a video messaging feature that lets your team create personalized help videos that appeal to visual learners. It also connects your various communication channels into a central inbox for easy response generation. 
You can use this software to create and send out support surveys once tickets close out. These surveys ask your support customers how they felt about the aid received. Its their chance to praise or condemn your system. Surveys represent a valuable window into the customer experience that can help fine tune your support processes. 
5. Front
Front is a ticketing support system that focuses on team collaboration.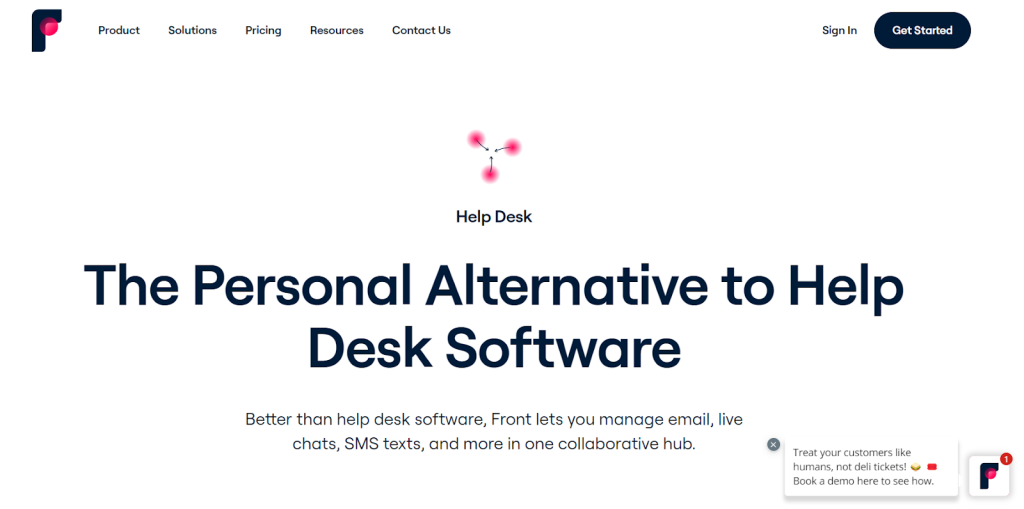 When an agent is working on a ticket, another can hop in to help out in real time. The agent assigned to the ticket can even share drafts of their email responses to get feedback from team members and managers. 
One of Front's key features is deep detailed analytics that highlight customer satisfaction and the overall effectiveness of your support team. 
FAQs
Before closing out this guide, let's take a look at some frequently asked questions about support ticketing systems. 
1. What is workflow in ticketing systems?
The workflow of a ticketing system is the step-by-step process undertaken by support agents to accomplish tasks. When the workflow is efficient and outlined well, it'll keep agents more productive and improve response times. 
Think of the workflow as a roadmap for agents to follow when resolving a support issue. 
2. What are the five stages of a workflow?
The workflow commonly associated with support ticketing systems has five distinct phases. They are: 
Data collection

Processing

Organization

Data review

Action
3. How do you categorize support tickets?
One of the most common ways to categorize support tickets is by assigning them priority levels. 
The issues that require immediate attention are high priorities. 
Important tickets that aren't as urgent are a medium priority. This tier could be something like an onboarding issue that's easy to fix. 
Then you have low priority tasks, which can often fall to an AI chatbot. These are typically frequently asked questions that don't carry a ton or urgency. 
You can also categorize them by number. For example, Tier 1 is your high priority case. Tier 2 tickets are medium, and Tier 3 is where you put all the low priority tickets. 
4. What are the status of support tickets?
A support ticket goes through several phases or statuses throughout its life cycle. 
New: This is when your support ticket comes in and shows up for the first time

Open: A support representative has opened the ticket and is working on it

Answered: The representative has communicated a response to the customer and is waiting to see if they'll follow up with more questions

Resolved: A ticket resolves when the customer accepts the agent's response and has no further questions 
5. What is a general support ticket?
A general support ticket is an issue filed by a customer that a support agent receives. The ticket then passes through several phases before its resolved. 
Bottom Line
You need a quality customer support ticketing system when running a business. The 12 best practices highlighted above will help you create a winning team that's set up for success. 
You can make that team's job a lot easier by providing them with the very best support ticket system on the market today. 
LiveHelpNow is a robust omnichannel support solution with advanced features. It can centralize customer conversations, facilitate cooperation, and generate analytics to gauge the overall effectiveness of your support process.  Click here to schedule a demo today.