Source: Dilbert
Quality customer service helps retain customers. As such, offering friendly customer service is critical to the success of your company. In other words, you shouldn't tell your customers to shut up and leave you alone. 
A single blunder in your response might be costly – it costs 7 times more to gain a new customer than to keep an old one. It's noteworthy that only 1 out of every 26 dissatisfied customers complains. However, do not view the absence of complaints as a sign of satisfaction.   
However, when customers do complain, they may become uneasy with your customer service. If customer service staff work in a highly dysfunctional workplace, the tension is impossible to hide and customers may move to a business where personnel enjoys their jobs if they have another option. The 5 practices from this article can help your employees effectively resolve customer complaints and love their job while doing it.
1. Standardize your complaints management process  
A standardized customer complaint resolution process guarantees that employees, including internal teams, follow the same rules and procedures to address client complaints efficiently. Such process clarity enables your team to become more efficient while reducing compliance and quality concerns in complaint management. 
Ensure that you standardize the complaints management process after considering factors like receiving, investigating, and resolving issues by your customer service. The following questions might help you:
Have you specified the timelines for employees responding to complaints?

Do employees have a centralized database storing complaints, investigations, and resolutions?

Which (type of) complaints will be forwarded to management?
Many sectors rely extensively on complaint management procedures to ensure customer problems are resolved as soon as possible. A classic example is a web hosting service. Many clients prefer web hosting service providers with standard systems that fix their issues immediately. 
2. Foster a positive employee attitude
Employees' attitudes or productivity in customer service are much more likely to be good when they are happy and engaged – it's proven that positive work cultures boost organizational productivity.
A positive employee attitude may include a genuinely friendly smile, polite mannerism, willingness to help, and a sympathetic temperament. It's HR's role to manage important workplace issues and prevent unfavorable attitudes. Rather than waiting for negative attitudes to emerge, try to utilize some techniques to positively impact employee attitudes:
Give customer service employees ample opportunities to address their issues

Keep the customer service team from falling victim to burnout

Offer a positive working environment

Offer effective leadership

Nudge line managers to inspire and empower their employees

Listen to employees' voices throughout the organization
Jeff Toister, a customer service guru, recommends creating a positive attitude and mindset at work by focusing employees on positive actions.  It "anchors" employee attitudes wherever needed to provide great service.
External factors often contribute to negative employee attitudes – personal or familial troubles, for example, can drive an individual to bring negativity to work. While HR cannot solve those issues, it may assist and effectively manage attitudes:
Identify the concerned individuals, their activities, and their impact on the workplace.

Speak with the employee and be available at the time they want to meet.

Assist the employee in changing their mindset, allow them to express their difficulties, motivate them to find a solution, and assist them if necessary.
3. Improve employees' time to resolution (TTR)
Customers' experiences are shaped by their expectations – they don't want to spend hours on the phone or staring at their computers. According to a McKinsey study, up to 75% of internet clients demand assistance from customer support employees within 5 minutes of initiating contact online. Moreover, Jeff Toister examined social media posts in depth and discovered that waiting times were the leading source of public complaints about businesses.
This is where TTR comes into play – it is a customer service metric that measures the average time between creating a customer encounter and marking that engagement as "resolved." The technology that had a great impact on the speed customer service teams handle client complaints is Artificial Intelligence (AI).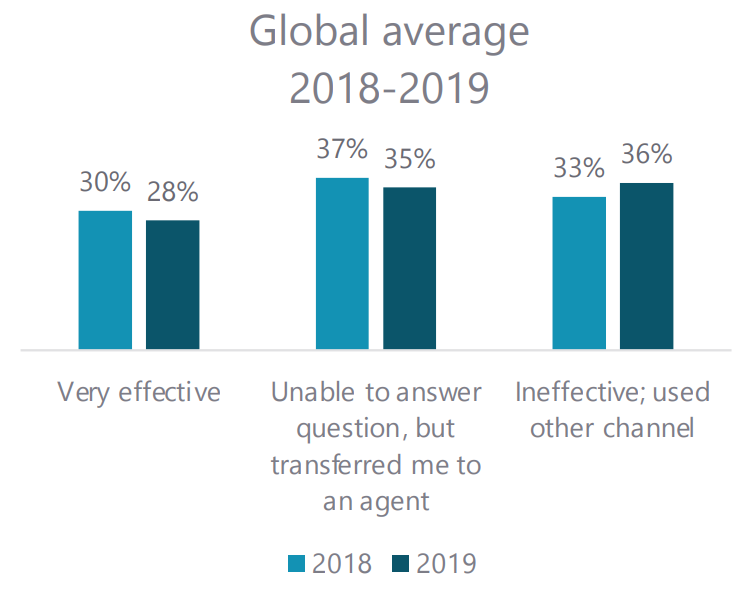 Source:  Microsoft
According to a report by Microsoft, 28% of US customers consider chatbot interactions to be "extremely effective" in dealing with customer care concerns. Also, they're essential to employee productivity, business continuity, and organizational growth. 
The report reveals that customer experience is a significant differentiator for the Microsoft workforce. It empowers employees to provide personalized and contextual interactions throughout the customer journey. Automating your customer service using AI-enabled chatbots is an excellent approach. It can help to answer complaints or inquiries in real-time and improving TTR.
4. Training and development
Training and development needs should be thoroughly studied and evaluated as an important component of a successful complaints management system. Proper skill-set guarantees that the complaints management team reacts to client feedback, complaints, and inquiries with the most appropriate solution.
Even if the team has difficulty responding to a customer issue, they should know when and to whom to forward the matter for fast resolution. All this is feasible only if they are trained for the job and the obligations that have been allocated to them.
You can utilize training management software to determine the proper training needs and programs because your team's competency will reflect the organization's capacity to resolve client complaints. As such, key customer service skills like problem-solving, attentiveness, patience, emotional intelligence, creativity, resourcefulness, and clear communication can all be beneficial for handling customer complaints.       
5. Personalize your customer service
A personalized customer service method essentially means an employee "knows" the consumer they're speaking to from the acquired consumer data. For example, if the local baker knows you favor sugar-free cookies, they may inform you that a fresh batch will be ready in a few minutes.
According to conducted research, 34% of marketing executives believe AI will significantly enhance customer experience, while 71% of consumers want businesses to provide personalized encounters – and 76% are irritated when this does not occur.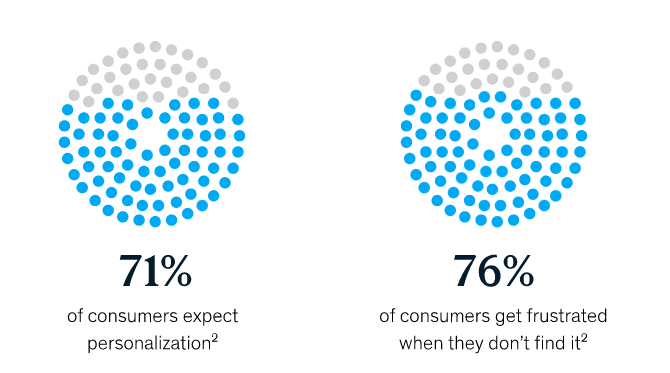 Source: McKinsey
At the moment, AI is being used to personalize consumer experiences through AI-generated tailored content, reminders, proactive greetings, AI-powered predictive task completion,  AI-targeted email promotions and offers, and data unification from many contact points.  A significant component is the use of conversational AI to address queries and provide personalized product suggestions. 
Consider how you feel when someone you've met multiple times forgets your name – or worse, doesn't remember you. The same may be said for customer-brand connections. There is no relationship without personalization. 
It's worth noting that your company must be able to acquire, process, and evaluate data and understand how to apply insights to drive action. You can do so and save time without the hassle of managing teams by using scheduling software. It'll help make data management easier for the customer service teams.  
Keeping Team Vibe While Handling Customer Complaints
Success in the workplace begins with maintaining a positive vibe-o-meter. Teams must work towards a winning combination: trust based on respect and a collective sense of personal responsibility.   
Offering a positive work atmosphere for customer service professionals improves their performance while dealing with customer complaints. It improves the whole company environment, and this improves customer experience.
More effort will lead to greater efficiency, better outcomes, and a more satisfying client experience – meaning that leaders must facilitate employee engagement. This focus, and the best practices for customer handling, all lead to a positive client experience.