Despite new technologies, email communications remain relevant. How can customer service representatives use them effectively?
Haircut. Email. Customer Service.
A while ago a friend of mine went to get a haircut.
When she returned home and her hair was fully dry she realized her haircut was botched badly.
With hopes to resolve the problem, she emailed the hair salon. She explained her problem, attaching pictures of the unfortunate result.
The response she received was less than pleasant. The hair stylist refused to acknowledge any wrong, got defensive, and accused my friend of not being clear about what she wanted during her visit.
As a result my friend left a bad review for the salon, never went back, and still remembers the bad experience, years later.
This is an example of poor customer service conducted over email.
Ok. #Relatable. But do people still use email?
Yes, they do! Email has been around forever.
It is a very trusted medium throughout generations. My middle schooler has an account and so does my grandpa.
Today it still remains the top medium for communication.
There are over 250 million email users in the United States. Statistical predictions promise that it will grow even higher in the upcoming years.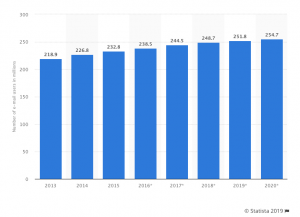 With such a vast number of users, it is not surprising that even with other channels available consumers still use email as a means of communication when it comes to customer service.  
If you look at email's penetration in business, researchers say that more than 90% of contact centers offer email. Moreover, the survey found that more than 70% of customers prefer email for communication with companies, leaving every other channel quite behind.
Why is email so popular?
There are several reasons that make this channel a good way for consumers to communicate with companies:
Allows attaching files  – like my friend in the story above, who used email so she could add visuals of her horrible experience.

Easily accessible – anyone anywhere can set up an account and send an email. And it's free!

Trusted channel – like trusting an elderly gentleman, trusting email is so much easier than, say, a Snapchat.

Allows for detailed information about the issue – you can write and write and write. You won't be cut off if you go over 140 characte…

Cost effective – we mentioned it was free, right?

Allows for customer surveys – and sometimes someone has 5 mins to

waste

spare and fills one out

Provides documentation of transaction – "yes, you did say that, here is proof!"

Adds professional touch – imagine a company without an email address…enough said.
Got it. People still do use email. So what?
Ah, I'm glad you asked. If done right customer service email communication can be a great tool to up your game. If not, it can hurt your business.
Here's how.
When we read something we are more likely to remember it; 10 percent more likely.
Because email creates a permanent record of communication if something goes wrong a customer has an opportunity to access the email again and "relive" the bad experience.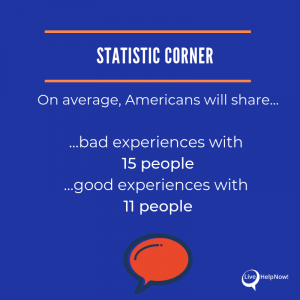 And share it with her friends.
Years later, when her hair has long grown out from the bad haircut, she will still have the bad customer service email you sent.
The saying goes, people will not remember what you said but they will remember how you made them feel.
A bad customer service email will do both. Now your customers will be able to reread your email and feel terrible all over again.
Like my friend did when she told me the story.
On the other hand, if you do it right, your customer will remember the good experience and will share that with other people.
Americans tell an average of 15 people about a poor service experience, versus the 11 people they'll tell about a good experience.
I was one of the 11 when Facebook user Kate told me the story of her late cat:
Two years ago I had a diabetic cat with cancer. He lived 3 years with his health issues and required extremely expensive medication, food, and obviously extremely high vet bills. He passed away a couple of days after a big bag of very expensive food was delivered from Amazon. I reached out to see if it would be possible to return an unopened bag of specialty food. I received an email within the same day – "We are so very sorry to learn of your loss. Please donate the food to a local animal shelter that will accept it. Your account has been credited $xxx.xx. it may take 3-5 business days to receive the credit on your account."

This meant so much that we didn't have to explain, didn't have to follow up while grieving, they just did the right thing and suggested we donate to another in need – on them. Having a permanent record of the customer service experience aside, you want to do right by your customer in the moment. You want your customer to have a good experience with your company.
Statistically, 51% of customers will never do business with a company again if they have just one bad experience.
So it's important to get it right to maintain the trust of your customers.
Oh. So we better do a good job on our email support, but how?
Awesome! Now that we know email communications are essential for good business we can talk about how to rock them.
In one of our previous blog posts we talked about five important ingredients of customer service to ensure customer satisfaction: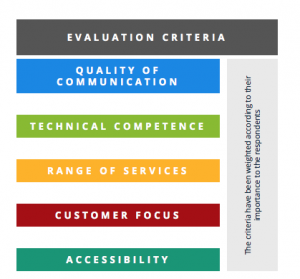 Whatever means of communication you use to connect with your customers, it's important to keep these aspects of customer service in mind.
We've discussed ways to up your customer service game in general terms.
While some of these techniques can apply to email communications as well, but there are aspects that apply specifically to email communication.
Below are four great ways to ensure you meet as many of the above criteria of good customer service as possible.
Let's dig in.
1. Clarity. Say what?
Ensuring clarity supports the first important ingredient of successful customer experience – the quality of communication.
Because you're not communicating face to face or over the phone it can be easy to misunderstand what your customer means or wants.
The task of being clear lyes on both parties in a communication. But you, as a customer service professional, have more of a responsibility to understand the issue.
Make sure you understand exactly what the issue is and what the customer wants as a resolution of the problem.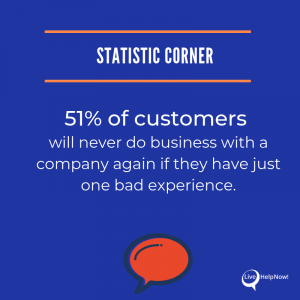 Here are a few tips on how to ensure clarity:
Ask follow up questions. Confirm and clarify anything that is not 100 percent crystal clear.

Make sure you use proper grammar, spelling, and punctuation. Nothing says

unprofessional

as much as poorly written email. Use our spelling, grammar, and typing

challenge

to test your skills.

Use formatting and structure to highlight clarity

Check all the links you include in the email to make sure they work

Use simple language

Proofread and review
Clear communication is essential! (in customer service as well as in all of your other relationships).
2. Speed of the response. I want it now!
Speedy responses support the accessibility component of satisfying customer experience.
Even though the customer is choosing email as the medium and knows it's not an instant gratification situation, he or she still kind of wants a response right away.
Research shows that 41 percent of consumers expect an email response within six hours. Only 36 percent of retailers actually respond that quickly…and 14 percent never respond at all.
So one way to rise above the competition? Answer quickly.
Sara McCord, an editor of the Muse online magazine, offers great tips on how to answer emails quickly in any situation.
The tips revolve around managing expectations, being honest, and delegating.
3. Personalization and empathy. We all need a friend sometime.
As any customer service expert will tell you, personalization is the key to customer service.
Personalization and empathy support the notion of customer focus, a vital part of great customer experience.
In one of our previous blog posts, we discussed how you can facilitate personalization in your live chat conversations.
Implementing it in your email communications is just as important.
According to Aberdeen personalized email messages improve click-through rates by an average of 14% and conversions by 10%.
Campaign Monitor publication says emails with personalized subject lines are 26% more likely to be opened. And Experian states that personalized emails deliver 6 times higher transaction rates.
Like the story of the cat owner at the beginning of the article demonstrates, empathy and understanding shown through communications make the experience pleasant and memorable enough to share with others.
There are various ways to personalize your customer service emails, including:
Using personal customers personal information

Starting on a positive note to set the tone – Happy Wednesday! Or Top of the morning to ya!

Using details specific to the customer and his or her situation

Empathizing with the customer

Using humor and light tone

Using visuals
Because emails tend to often be written using a template or by cutting and pasting a previously written text, personalization can get lost along the way.
Make sure you add that personal touch to your emails.
And sign your name on the bottom of the email. Have fun with it as long as you keep it professional. No one remembers "customer service representative". Someone will recall "Tim Smith, the king of customer service."
Or something like that.
4. Problem Resolution. That's why we are here, right?
This one is, perhaps, is the most important.
After all, that is why your client is contacting customer service – to solve a problem.
Acing problem resolution speaks to the technical competence as well as to the range of services categories of customer service evaluation.
There are various steps you can take from needing to through customer's history to referring to a supervisor for effective problem resolution.
Here are four steps Neil Kokemuller, a customer service expert offers for effective troubleshooting:
Listening – our, in our email case – reading the inquiry very carefully.

Acknowledging – in your response make sure you state clearly that you understand what the problem is. This also speaks to the customer focus aspect we discussed above.

Offering alternatives to solve the problem. Get creative!

Follow up – make sure you check on the customer in the near future to ensure satisfaction.
Knowing your products and services is also an essential skill in troubleshooting. So make sure you educate yourself.
Because you are you have more time to write an email than in a chat or phone conversation you have more opportunity to explore the solutions. Use that extra time wisely to truly dedicate yourself to problem resolution.
When it comes to customer service, writing precise and accurate emails is nothing lesser than crucial. They serve as a direct communication channel between the company and the customer. Hiver's infographic provides useful tips for crafting the best customer service emails.

Conclusion
So what did we learn?
Email communication is an older, but still very much used form of communication when it comes to customer service.
Clarity, Speed, Personalization, and Effective Problem Solving are four aspects you can ace for superior customer service.
How do you make your customer service emails rock?