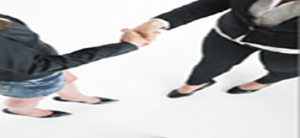 As a company grows, its executives may lose sight of the most important aspect of any money-making enterprise: pleasing the customer. Mainly, this is because big companies have more difficulty communicating across departments and levels of hierarchical management. Poor communication leads to misunderstandings, misinformation, and ultimately, confused and frustrated customers who bear the brunt of it all.
In small businesses, on the other hand, sales and customer service employees can often walk a few steps down the hall to the owner's office to acquaint them with an new issue or give an update on an old one. The owner may even get involved himself, dealing directly with customers to ensure a happy experience. When is the last time the CEO of your cable company got on the line to address issues with your service? In big companies, customers generally end up waiting on hold only to be met with scripted responses from a representative who doesn't adapt to your specific circumstances.
Big business tends to focus on numbers and analytics reports to gain an overview of their health. While these tools are useful for any organization, they shouldn't replace efforts to build deep and meaningful customer relationships – something bigger businesses should reasonably have more resources to accomplish.
Here are three lessons big businesses can learn from the little guys, and that little guys should remember as they expand:
1. Practice empathy
It helps for employees for stay calm in the face of an irate customer, but going a step beyond that and showing empathy will win more brownie points with the disgruntled caller (or chatter). Large companies usually have to develop customer service protocols to ensure consistent service and to train new employees speedily. The downside is that strict protocol bars the individualized service that customers appreciate, and often makes the caller jump through hoops to get the attention he or she needs. Rules and guidelines are fine, but employees should be encouraged to bend them when the alternative is losing a customer to a competitor. Show that you care, and the customer will feel that he or she is in good hands.
2. Keep communication open
CEOs and business owners should concern themselves with customer complaints and involve themselves directly with providing great customer service. Get out of the office and on the sales floor, or on the phone, or online to chat with your shoppers. Talk to the employees who interact with customers everyday to get a feel for the temperature of customer interactions. This kind of attention lets people know they matter and are more than just dollar signs to your company.
3. Simplify and streamline
Making the process of contacting customer service as quick and easy as possible is essential to pleasing the customer and garnering positive word of mouth. Instead of having callers wait on hold for a line to open up, offer alternative channels of communication. Live chat eliminates the need for a phone call, and agents can take care of multiple customers at a time. An organized and up-to-date internal knowledge base gives your reps all the info they need to answer queries, right at their finger tips. An educated team with a high access level cuts down the need to transfer calls to various departments to find the right answer. A healthy knowledge base can also cut down on calls and chats by allowing customers to find the answer themselves; just remember to keep it clear and straightforward (no industry lingo or company jargon).
Check out these examples of businesses offering quick, personalized, and empathetic customer service for some inspiration:
Why Small Companies Are Better at Customer Service
The Best Bank Customer Service Story I Ever Heard
Check Out the Insane Lengths Zappos Customer Service Reps Will Go To