With great technology comes great responsibility. This paraphrased principle of Spider-Man fits customer service in today's digital world supremely well. 
The more instruments we have to influence customer experience, the more responsible approach we need to employ to using them. And this applies especially to live chat communications with customers.
Around 73% of consumers consider live chat the best form of communication with a company, making it one of the most effective ways to boost engagement and customer satisfaction. Plus, live chat provides considerable increases in conversion rates, improving them by 3.84%, with a 6% overall lift in revenue. No doubt, live chat software is a must for every business willing to thrive today.
But there's a catch. No one is immune to communication mistakes, and your experienced and highly responsible live chat operators aren't an exception. These mistakes impact how consumers see your business and can influence the customer experience with your brand, killing its loyalty and trust.
In this post, you'll find the top seven mistakes to avoid in live chat communications. 
1. Lack Of Personalization: You Sound Too Formal Or Robotic
"By 2020, customers will manage 85% of their relationship with the enterprise without interacting with a human." Gartner
2021 is here, and 77% of consumers admit they need to talk to a real person in a live chat before making a purchase decision. This shows that personalized customer service still matters. When done right, you can generate leads with your live chat communication.
A mistake would be to "forget" about personalization and the fact that chat communication is more casual and conversational than phone or email support.
Live chat operators often follow formal communication rules and sacrifice personality for quantity. They might use scripted replies and templates to "talk" to several customers at once. Not only does it eliminate personalization, but it also increases the client's annoyance. While customers choose live chat communication for its efficiency, they get impersonal word constructions, lengthy sentences, and one-size-fits-all replies. Customers understand no one cares about them, leave your website, and stop communicating with your brand.
How to avoid this mistake:
Use real names and photos of live chat operators for customers to show the presence of a real person. "John Doe" with a stock pic of a guy in earphones is a no-no.

Call customers by name and use conversation indicators during communication. Phrases like

"Oh, I get it"

or

"I understand"

express your attention.

Avoid tech terms, professional slang, or too complex word constructions with hard-to-get abbreviations. Use the words everybody knows to ensure a customer will get the answer to their question.

Check out our

live chat personalization

guide for more tips. 
2. Lack of immediate response
One of the most typical mistakes to avoid in live chat is making a customer wait for a reply.
About 79% of consumers choose communication with a live chat agent because they want to get an immediate response. The average live chat response time is 46 seconds. Making customers wait for over a minute may end with a negative customer experience.
How to avoid this mistake:
Use auto-response messages. Even if a live chat operator can't answer immediately, ensure a customer that his or her message has been received. Provide a definite time within which the customer will get a response to make them feel comfortable.

Besides canned responses

a la

"Hi, how can I help you?" or "Your request has been received; an agent will reply in 3 minutes," consider AI-powered chatbots. They'll analyze a customer message and generate the most relevant response to avoid something like this: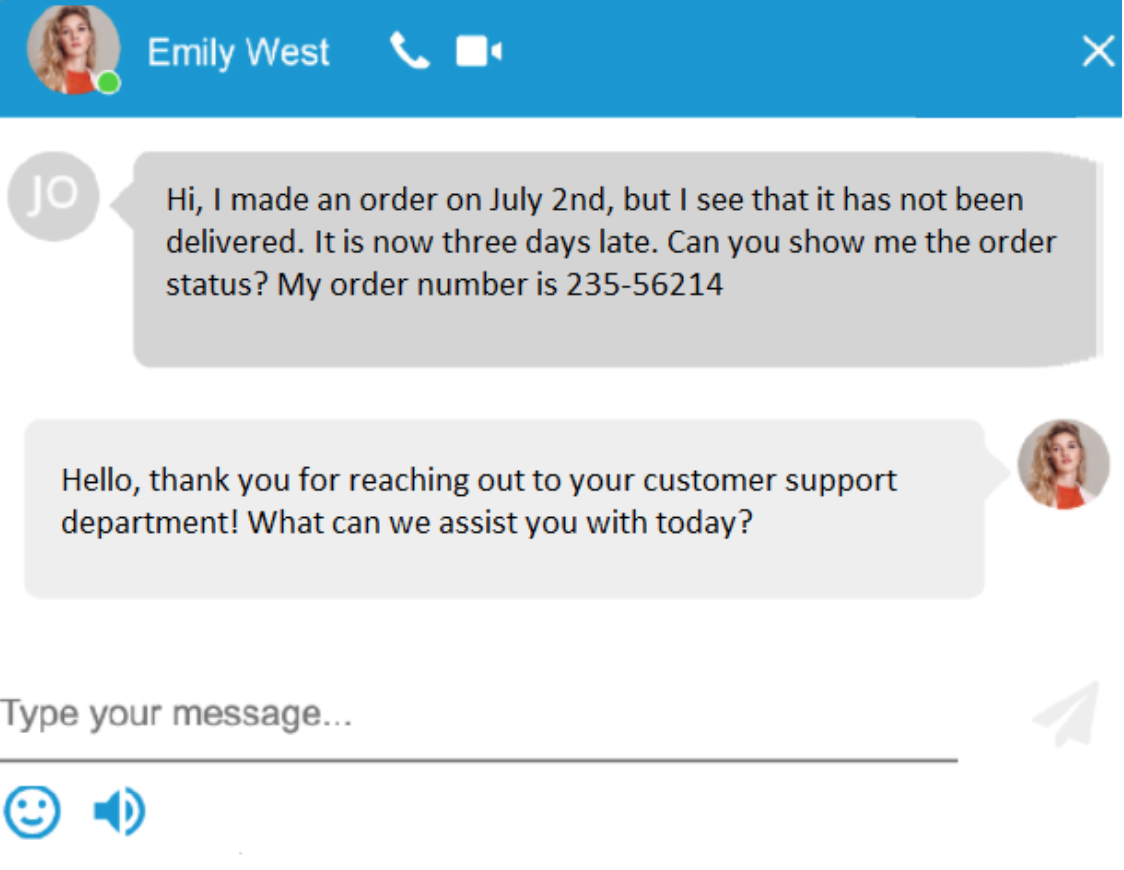 Choose live chat software with a multiple chat window feature. It will help operators manage a few chats simultaneously, and customers won't have to wait for a long time.
3. Spelling and grammar mistakes in live chat communication
Sure enough, one or two typos in your chat message aren't Ragnarok (read: the end of the world; a movie fan here, sorry!). However, typing mistakes do impact how recipients see you:
Reading a message full of grammatical errors and typos in live chats, customers will think you aren't credible enough to be worth their trust. After all, if you don't even know the basic rules of writing or don't care to review a message before sending it, how would you care about the customer problem and your overall business processes?
How to avoid this mistake:
Use spell-checkers in your live chats to minimize typos.

Make it a habit to check your message before sending it to a customer.

Learn or make a checklist of the most common

spelling and grammar mistakes

to avoid in communication.

Train agents through fun games, like this one:

https://thankyouforcalling.com/
4. Too much expression with emojis
While emojis can be an excellent way to reduce formality for a more personalized customer experience, their overuse makes live chat operators look awkward. That is why it's one of the most common mistakes to avoid in live chat communication. 
A single smiley is okay to use after "Hello," for example, especially if a customer sets a corresponding tone. But winking or smiling after every second message suggests a double meaning, leading to misinterpretation and confusion. The same goes for exclamations and sending messages in CAPS. While one (!) exclamation is okay when you need to stress something, this punctuation mark makes recipients suggest you are nervous or angry. We often interpret CAPS as screaming, so it's better to avoid it in customer communication.
How to avoid this mistake:
Consider live chat systems that limit emojis.

Add an emoji only when a customer sets the tone, but say no to double emojis after a message.

Say no to CAPS in live chats.

Be careful with jokes, avoid sarcasm, and say not to words with negative contexts ("wrong," "bad," "failure," etc.)

Use standard codes like 🙂 or 😀 in your live chats to prevent their

different look at different platforms

.
5. Wasting customer's time
Yes, your customers want to get quick responses. But they still choose quality over speed. That's where a live chat agent should find a balance: stellar support in a comparatively short time.
Customers choose your live chat because they don't want or don't have time for waiting and long talks. So, wasting their time can damage relations and your brand reputation. Here are some common ways live chat agents waste customer's time and ruin the quality of communication. 
Giving unhelpful recommendations
Live chat support serves to resolve customer problems as quickly as possible. Talking to an agent who doesn't have the right answers, provides irrelevant recommendations, or redirects clients to other operators does nothing but harm to your brand reputation.
What to do: Add pre-written scripts with the most relevant information to your live chat software. Segment chat operators by channel, each responsible for particular issues. Provide your agents with proper training and coaching. (Our friends at Tarrant County did just that. Read their success story here.)
The lack of trained staff leads to a negative customer experience, so make sure to use a coaching platform to train your operators to perform better.
Remember: every agent has a limit for the chat numbers they can manage efficiently. Prevent them from getting overloaded to decrease the likelihood of making mistakes in communication with customers.
Making customers repeat themselves
According to the research from HubSpot, 33% of customers become most frustrated when they need to repeat the issue to many agents. That wastes their (and yours!) time. But it also represents your company as disorganized or unconcerned about your customer satisfaction.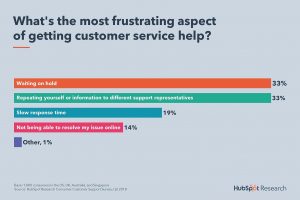 What to do: Save chat history and give all agents access to it to prevent repetition.
Skipping peak chat times when customers need you
While most businesses do their best to provide live chat support 24/7, some still prefer a nine to six schedule. And that's where the problem appears because customers, especially international ones, are more likely to reach you at alternative hours or days.
Not receiving help when they need it, they'll mark you as a company with a bad customer service experience — and leave.
What to do: Use offline message forms at your website. Implement a live chat mobile app for your support team. Figure out the peak times for your agents to be online and craft shifts accordingly. Or consider hiring live chat agents to handle your chat after hours. 
Making it challenging for them to reach you
Customers use live chat because it makes support even more accessible in seconds. It's a huge mistake to make them spend time filling long pre-chat forms: While customer data is essential for creating a personalized experience, don't make users feel as if you force them to provide it.
What to do: Keep your pre-chat forms short: name, email, and location fields are enough.
6. Showing that you know too much data about customers
Live chat systems allow you to gather even the most sensitive data about customers: location, buying history, social media profiles, shopping cart content. All this serves for better personalization and can help you improve customer experience.
However, it seems a bit creepy if a live chat agent brings up information the customer didn't discuss during previous conversations. Don't you agree?
What to do?
Increase data transparency

Use the data in a customer's best interest. When recommending a product, there's no need to tell that you do that "based on a buying history" or because you "already know" a customer will like it.
7. Not following up with customers
Follow-ups after communication will help determine the weak points of your live chat operators and improve your customer service accordingly. Knowing how clients would rate the quality of their communication, you'll understand what strategies to implement for a better customer experience.
How to avoid this mistake:
Send them post-chat customer satisfaction surveys but make sure they are quick and easy to take. 

Keep your surveys in the same chat window with the customer interaction.

Make sure to take time to

thank the customer

after a purchase. 
Mistakes to Avoid in Live Chat Communications
Live chat is a great tool to engage customers and drive leads. Keep in mind these mistakes to avoid in live chat communications. Tiny, yet significant, they may impact your customer trust and brand reputation negatively. Avoid these common errors – and you'll win.