In the world of business, customer service has never been more important. The difference between a good company and a great company is how well it treats its customers.
Today, customers are so impatient, and they need an immediate solution to every problem. That's why businesses need to have a strong social media presence, create helpful content that their audiences want to read, offer live chat and text messaging options on their websites,  and provide an FAQ section with detailed answers.
The goal should be to provide excellent customer service so that customers are likely to come back or refer their friends and family.
Many businesses have found that a great customer experience is worth more than almost any other factor in generating revenue. And, that starts with having the right tools for every job.
In this blog post, we will discuss 4 great tools that will help you improve customer experience and make your life easier.
1.
LiveHelpNow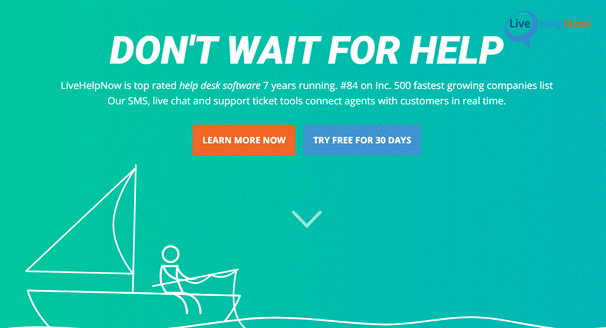 LiveHelpNow is one of the best and powerful customer experience tools available for small to large businesses.
More than 500,000 people, including big brands like Barracuda networks, AACC, Crucial, Dell, etc., have been using LiveHelpNow software to enhance their customer experience.
They offer a wide range of tools such as live chat, SMS, support ticket, call management, and FAQ tools. These tools allow businesses to connect with customers in real-time. In addition, the customer service software features bot-driven automation so business owners can focus on their business while the chatbot handles some of the easier customer inquiries.
LiveHelpNow can be integrated with other popular CRM, CMS, and email marketing tools such as AgileCRM, HubSpot, WordPress, MailChimp, and many others. This way brands don't have to switch between different programs when handling customer queries. 
Key features:
Chat support suite

Call center functionality

FAQ builder

Support ticket management

Instant language translation

Auto-tagging of inquiries

Live chat apps for Desktop, Mac, Android, and iOS
Free trial: LiveHelpNow also offers a 30-day free trial. 
What are people saying about LiveHelpNow?
"We are a loyal 7 year client of LiveHelpNow. Need I say more?" –

Barracuda Networks.

"We are so impressed with how simple it was to install on our website… We started seeing results immediately!" –

All Pro Trailer Superstore.

"The support staff is also extremely helpful… I wholeheartedly recommend their services and would be lost without their tools." –

Brandt Immigration.

"Between the quality of the package and the enthusiasm of the people behind it, I feel like the sky's the limit with this company." –

Final Draft.

"As a company serving clients from around the world, we found the translation feature of LiveHelpNow extremely useful." –

iDevAffiliate
Try LiveHelpNow 30 days for free
2. Qualtrics XM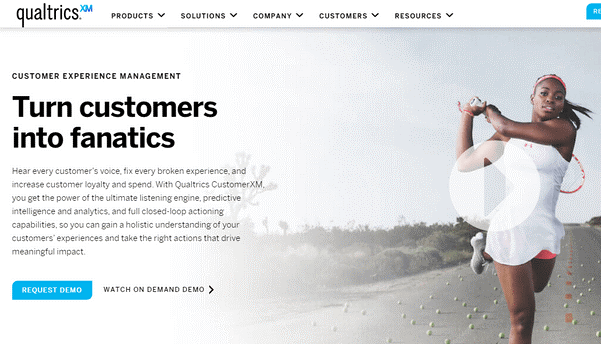 Qualtrics is a customer experience management tool that helps improve customer loyalty.
With Qualtrics, you can design your surveys and distribute them to your respondents without any programming knowledge. You can also analyze responses in a variety of ways with their powerful reporting tools.
Also, you can collect, analyze, and act on customers' feedback to drive better business results, taking action on what customers want from your products or services.
Key features:
Customer feedback

Closed-loop follow up

Customized dashboard

Customer satisfaction and effort score
3. Salesforce Service Cloud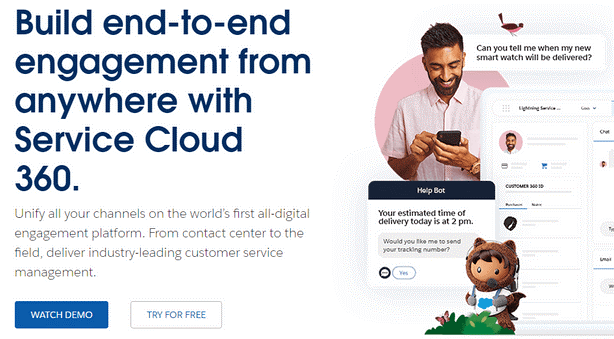 Salesforce Service Cloud is a popular CRM for customer service and support. It's based on the popular Sales Cloud product, which professionals have used for years. With this software, your team can be more efficient with personalized support via phone, email, chat, or SMS messaging app.
Salesforce Service Cloud lets you personalize your interactions to engage with every customer, no matter how they reach out to you. With this service, you can deliver the right message at the right time and in the right channel for each customer.
With this tool, you can have all of your customer data in one place, so it's easier to manage everything from marketing campaigns to billing. Plus, you can personalize your support, so it feels like you're talking to one person instead of many people.
Key features:
Lighting service control

Omnichannel routing

Social customer service

Automation with macros

Account and contact management
4. HubSpot Service Hub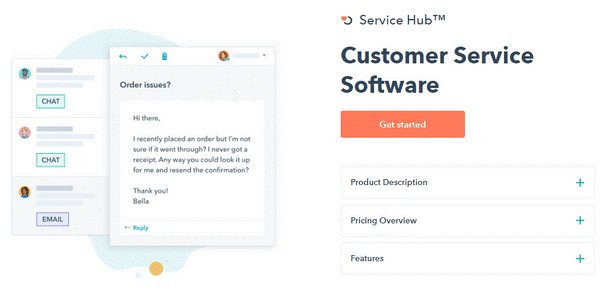 Do you want to provide better customer service? Then look no further than HubSpot Service Hub.
The HubSpot Service Hub is a unified customer service platform that integrates with the entire HubSpot Growth Suite. It's designed for companies who want to break down silos and deliver an amazing experience for their customers. With the Service Hub, your team can help customers on the channels they prefer while driving efficiency in your company.
You'll be able to offer personalized support across all of your channels – email, chat, social media, phone calls, and more. All without ever having to switch between different tools or systems. As a result, your team members will have everything they need at their fingertips. And then they can focus on delivering great experiences for every single one of your customers.
Key features:
Help desk and ticket automation

Live chat

Knowledge base

Team management

HubSpot CRM

Conversations inbox
Conclusion
Customer experience is one of the most important aspects of your business. You want to make sure that you are providing a positive and memorable experience for customers, which will lead to increased sales in the future.
Luckily, there are several tools available that will help you make every customer feel special and appreciated. From improving service quality to building brand loyalty, you can do many more things to make customers happy.
In this article, we have shared the 5 best tools to help you improve the customer experience for your company and make your life easier.
Now, we want to hear from you! What is your favorite CX tool? Let us know in the comment section.