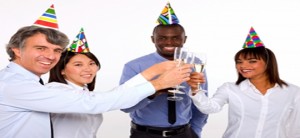 Did you know that every year, the first full week of October is recognized as Customer Service Week? An international celebration, the festivities honor not only the customers that keep businesses alive, but also the the representatives who man phone lines, help desks, and support centers every day. In keeping with the holiday spirit, here are 10 facts about customer service you may not have known:
1. In 1992 the U.S. Congress proclaimed Customer Service Week a nationally recognized event, celebrated annually during the first full week in October.
2. The Bureau of Labor Statistics projects that customer service jobs will grow by 15.5% between 2010 and 2020.
3. 80% of Americans agree that smaller companies place a greater emphasis on customer service than large businesses.
4. 78% of surveyed customers say that competent customer service reps are most responsible for a happy customer experience.
5. One of the games hosted by Customer Service Week organizers is the Office Triathlon, in which individuals compete to complete three tasks in the shortest period of time: string together a 25 piece paperclip chain, place 15 numbered sheets of paper in numeric order, and replace the paper in a desk calculator.
6. The first call centers and 1-800 numbers emerged in the 1960s.
7. According to the American Customer Satisfaction Index, the Manufacturing/ Durable Goods Industry (i.e. cars, cell phones, computers and TVs) had the highest score at 83. The lowest score of 67 belonged to Public Administration/ Government.
8. Customer Service Representative ranked #24 on the U.S. News & World Report's Best Jobs List for 2012.
9. 86% of Facebook users report using Social Media for Customer Service.
10. You can follow #customerserviceweek on Twitter to see what business are doing to recognize their #custserv reps.
What are you doing to celebrate Customer Service Week?