A poor attitude and lack of confidence toward your business can spell major trouble. Studies have shown a direct correlation with lack of trust and customers jumping ship to another brand. While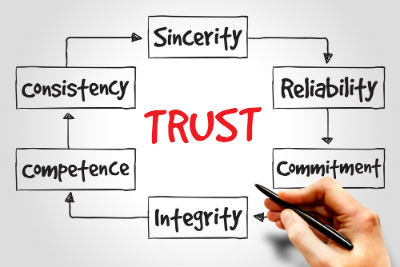 it's nearly impossible to maintain a 100% retention rate, customer support software can help improve the trust factor and build stronger, lasting relationships.
Provide Human-to-Human Interaction
According to the Better Business Bureau, customers prefer human-to-human interactions. This means that they don't want to fumble around with automated phone systems. Customer support software can offer a human element via live chat, where an agent directly corresponds with a customer in real time.
This works to build trust by offering the human-to-human interaction that customers crave. Furthermore, it can help the customer support process feel more personable. Customers who prefer text can also communicate with your company via SMS with live chat apps. This allows customers to communicate within their own comfort zone as you continue to build trust.
Offer Instant Answers to Common Questions
Even though live chat can serve as an important piece of the puzzle for customer service, there are other methods that improve trust. It's important to make it easy for customers to find answers to questions on your website—and fast.
A FAQ system improves the user experience of your website while simultaneously satisfying the needs of customers. This is especially true when customers have common questions that don't necessarily require the assistance of a live agent.
When you're choosing a FAQ builder, be sure to include features such as self-publishing and article tagging. This makes it easy to add Q&As on a dime and group related topics together for easy browsing.
Protect Customer Data with Secure Web Forms
Unfortunately, probably because so many of us are still unaware of the availability of identity theft protection services, identity theft is still a major problem. Customers are becoming more reserved on handing over personal information such as full names and street addresses.
Secure web forms offer peace of mind for concerned customers. The forms allow you to collect sensitive data for loans, social security numbers, medical information, and more. It also provides the ultimate secure user experience without customers losing sleep over lost data.
How Will You Gain Customers' Trust?
When customers lose trust in your company, their business goes right out the door. These are only a few ways that customer support software can improve trust, win more business, and showcase your company in a positive light. LiveHelpNow has numerous products that will help boost customer trust as well as confidence. Contact us to schedule a demo or start a 30-day trial by clicking here.