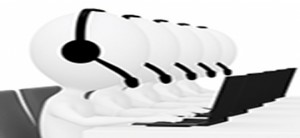 If you oversee a help center, you've likely noticed that unpredictable call volumes can leave you with the difficult task of managing periods of idle time. Inactive operators mean your help desk Return on Investment sinks and invaluable opportunities to grow your business are missed.  So when phones aren't ringing off the hook, how do you keep help desk agents busy?
The bonus of using complete help desk solution software is that it not only enables you to field customer queries and deliver great service, but it also provides ways to proactively bolster your business as a whole, beyond the customer service realm. Here are five ways agents can use chat, ticket, and knowledge base software to turn help desk idle time into productivity boosters.
1. Share
With Whisper Technology and the ability to add notes to tickets and callback requests, customer interactions can be shared among your whole team, who can offer tips and insights to adjust the course of action or improve future interactions. Encourage agents to browse through the ticket log to see if they can help move along a working request or even completely take over a ticket that has not been assigned to them. This kind of access, all from inside the operator panel, allows your team to evenly distribute workload and self-delegate tasks when they're not chatting with your customers.
2. Enhance
And don't forget the fun features agents can use to help track customers and chat system usage, like visitor and chat tags. When a conversation ends, they can review transcripts and customer history and label the visitor appropriately. If, for example, they've visited the products page three times in the past two days and initiated a chat to ask about pricing or particular features, it's safe to mark them as a "prospect," which alerts other agents to look out for selling opportunities.
3. Reach Out
Similarly, agents sitting idle can use their time to peruse their site's browsing visitors and look for opportunities to send a chat invitation. Proactive chatting can be used to offer assistance, spread word about a running offer, or close a sale. In their Business Solution Guide, customer service solution provider Genesys advises "call blending" to keep call center agents busy. This means that during a slow period of incoming calls, operators can instead make outgoing calls to prospects and current customers to discuss current promotions. Sending proactive chat invitations is the online version of this technique, which not only keeps your agents productive, but is likely to increase your conversions.
4. Educate
Building your company's knowledge base, as previously detailed on this blog, also plays a huge role in satisfying customers. When agents encounter a unique problem, they can easily transform their conversation into a knowledge base article for future visitors (or fellow agents) to consult.
5. Get Trained
On the flipside, agents with downtime can access internal knowledge base articles to refresh their memory or read through new or updated articles to stay on top of the latest information. Making this a priority for your operators will cut down on training costs and ensure your staff stays relevant and helpful to your customers.
Conclusion:
Complete help desk software is more than just a customer service tool; it's a complete business solution that functions as a promotional, analytical, and training tool as well. Its features help your business grow, and ensure your agents don't waste time during slow periods. With the potential to direct and promote campaigns and increase sales, your help desk ROI will shoot through the roof.