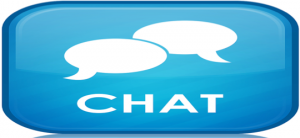 You may already know that AdWords allows you to add extensions to your Google ad, whether it's your business location, phone number, additional product info, or social media links. Now, Google is testing a new extension feature – a live chat invitation button. This is a great way to attract browsers who don't feel like searching endlessly for answers. Instead of clicking on link after link, they may be enticed to chat directly with you, right from your ad. That gives you a better chance of converting more leads to sales.
The feature is currently being tested in beta, but when it becomes available to the public it can be yet another powerful tool in your marketing arsenal. Having this little button can not only connect you to prospective customers faster, but also give you a leg up on competition who don't offer this tool and therefore appear less accessible.
Why use LiveHelpNow specifically? The advantage of using our software over a competitor's is that we do not use an embedded chat window. An embedded window opens up within a company's website, whereas LiveHelpNow Chat opens in a separate window.
Because Google's new chat extension will have to open a new window, embedded chat software will be impossible to use with it.
Another advantage of a non-embedded chat window is that it is fully functional on mobile apps, whereas embedded chat is not. With a separate window, theres also less chance of accidentally closing an open tab or closing a chat by navigating away from the company website.
If you haven't already given chat a try, now's the time to jump on board. Having the invitation featured on a top search engine is sure to drive traffic to your site and increase your sales. Check out a live chat demo to see how the software can work for you.