Good customer service is rarely memorable. However, bad customer service can leave your clients fuming. Meeting your customers' satisfaction is essential in generating sales and keeping your business growing.
If you're looking at building a customer support team or improving your current one, the first step you need to take is to come up with a clear plan. You may think you can just hire a few people and train them to answer customer queries but starting without a plan may end up being very expensive in the long run.
Thinking holistically about your business as a process is one of the key ways to ensure your customer support team provides five-star support. Using this approach, your support team can be efficient, fast, and respond before problems arise.
Outline specific metrics and goals for your customer support team
The first thing you need to do is establish what goals your team will have and how to measure these goals. The best place to start is to look at your company's values. For example, Southwest Airlines has since its inception been known for cultivating a fun and enjoyable flying experience.
Ben's preflight to do list:
-????
-????‍♂️
-Invite everyone to Grandma and Papa's house pic.twitter.com/yTjyJOMHnj

— Southwest Airlines (@SouthwestAir) February 20, 2022
Thinking about your company's values will dictate how you put your dream customer service team together. Amazon and Jeff Bezos consistently tout four key values that touch all levels of Amazon:
Customer obsession

Long-term thinking

Eagerness to invent

Pride in operational excellence
These values do not have to be the same as yours. But they are an excellent starting place when thinking about how to structure your support team. Once you have your values in place, the next step is to start thinking about how you will pick the metrics that make sure those values are being fulfilled.
One of the most important metrics to consider is customer response time. Failing to respond to your customers (at all or in a timely manner) will set you up for failure. Another metric to consider is customer satisfaction after a support inquiry has been opened. You may respond to clients immediately, but are you resolving their issues?
Finally, another metric to consider is resolution time. How long are you taking to resolve customer issues? People don't want to wait to receive a refund or to have their product shipped. Cutting down your issue resolution time is critical for any professional support team.
Choose your staff wisely
Now that you know how to build a solid foundation for your customer support team, it's time to start putting the actual team together. Choosing the wrong staff can be a disaster and lead to high levels of customer dissatisfaction.
You should begin by deciding what qualities you want your team members to have to be a successful team. You'll want to think about how your staff will fulfill your company's values and how they will be able to meet the metrics you've outlined for them. Think about the times you had great customer service – what qualities did the staff have that made it great?
Since we're thinking about your business as a process, you'll also need to ensure that your staff is familiar with how your business works. That way, they'll be able to deliver consistent support no matter what stage a customer approaches you at.
Customer service agents who can speak personally and candidly are a great asset. These days, customers crave personalization, and by seeking candidates who have a high level of emotional intelligence, you'll be able to provide even better service.
Picking customer service agents that listen is crucial. Avoid hiring and training agents who will merely rattle off a script and fail to listen to a customer's actual needs. Restaurant owners use the right interview questions for restaurants to hire the best agents. Having team members who can understand client needs and properly resolve their issues is a critical part of picking your staff.
Select the right software and tools to help your staff and respond to customers
In the digital age, it's crucial that you leverage some software to respond to customers' queries. One way to do this is to select software with omnichannel support. Omnichannel customer support is incredibly important because customers expect to be able to reach out across a variety of channels, whether via Twitter, email, a customer support portal, or chat.
Often, we become obsessed with responding to customer complaints, but good service begins long before that. In many cases, you may need to communicate with your customers throughout the business process. Selecting software that comes with crucial features like file management and enables collaboration is a great way to make sure you stay connected with your clients.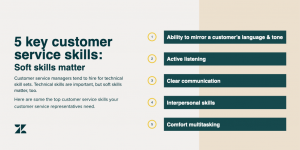 Another important component of the software you choose will be a ticketing system. This way, you can track when requests come in, how long it takes to respond to them, and how long they take to get resolved. Ticketing systems are essential to making sure you're meeting your metrics and sticking to your company's values.
With the right software, you can avoid making excuses to your customers and provide them with upfront and direct service that resolves their issues and streamlines interacting with them.
In the fast-paced business world, it's essential that your team operates efficiently and safely. Decrease the risk of security breaches by giving your team access to a no-log VPN. The benefit is that there is no need for credentials for every employee, no logins and no passwords to remember."
Be proactive and resolve issues before they reach your staff
The next critical piece of your customer support team is to build a system for resolving issues before they reach your staff. Solving problems before they reach your team will cut down on customer service time. It will free up your resources and keep customers happy because they don't have to wait on you to help them.
A good way to do this is by creating a knowledge base or FAQ section. A knowledge base is usually a searchable database on your website. However, it can be costly and take time to create.
One alternative to setting up a knowledge base is to create forums where customer service agents and users can respond and solve issues together. Creating a forum can be beneficial because it allows you to accumulate knowledge on how to resolve problems over a longer period. One downside, however, is that you will need to make sure they are well-moderated to avoid trolls and forum drama.
Resolving issues before they reach your staff is a key component of building a successful client service team. This strategy will let you offer better support to customers that really need your assistance.
Maintain your high-quality support system using kaizen
Once you have everything in place, you will need to maintain your support system. Often, continuing support is an overlooked part of the process. However, maintaining your support systems is key.
This means re-evaluating your principles over time, tweaking metrics to decide where they need to be, and continuously improving your processes. Continual process improvement was championed by Toyota under the Toyota Production System (TPS). In Japanese, this is called kaizen.
The core idea behind kaizen is that all processes in a business should be continuously refined and updated in real-time. It is a key component of other business concepts, like lean manufacturing. By integrating it into your customer support process, you can prevent your team from becoming complacent. Then you can ensure the service stays top-notch in the long term.
Putting the pieces together and building your customer support team
Now you know all the key steps to creating a successful customer support team. It's time to take charge and put your team together. Remember, start by picking a set of values and metrics by which you can measure your team. Then, hire great staff and pick software to support them and your customers. Finally, find ways to fix problems before they happen, maintain your support system, and continuously improve it. If you take these simple steps, your support team will be unmatched in no time.