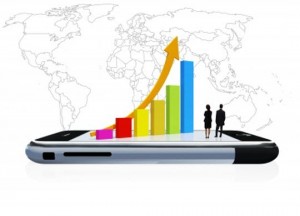 Maintaining a presence on the Internet through the use of social media and a well-designed company website is a must, but many companies forget that they must also take the extra step to cater to mobile customers.
Meeting the needs of mobile consumers allows you to reach a growing demographic of potential customers who use their smartphones and tablets to research product information before they buy.
1. Build a Mobile-Friendly Website
Most modern websites that are built to be viewed on a computer are not compatible with mobile devices, so it is important to design a separate website for mobile users. This website will be slimmed down to meet the needs of mobile users, but that doesn't mean that design has to be sacrificed.
Be sure that the main website is programmed to automatically send mobile users to the mobile version of the site. In order to determine whether the mobile website is user-friendly and displays as intended, test the site on all mobile operating systems before launching it. Android phones and tablets, iPhones, iPads and Blackberry devices should all be able to run the mobile site.
Entrepreneur Magazine explains that it is possible for businesses on a budget to design a main website that is compatible with mobile devices, but it does take time and creative designing skills to build such a website.
2. Display a Clear Call to Action
Make the call to action clear on a mobile website. Is the intent of the company for the customer to order a meal from a restaurant? The menu and an order button should be prominently displayed on the mobile website.
It should be easy for a customer to book an appointment, find information on ordering a product or view a selection of service options through a mobile website or app.
3. Provide Easy-To-Use Support for Mobile Users
Smartphones are able to provide customers quick access to support through a touch of the screen by allowing companies to post a 'clickable' contact number on their mobile website or app.
Tablet users or others who are not inclined to make a phone call may want support through a live chat system that can run on their mobile device. Most small companies are not able to make support available at all times, but setting certain times of day during which this service is available could boost customer satisfaction.
4. Utilize Mobile Apps to Draw Interest
Successful mobile apps are fun, interesting and useful. The types of apps that are appropriate for a business will depend on the size of the company, resources available to develop apps and the needs of customers who frequent the business. Some examples of what a company can do through a mobile app to meet the needs of customers include:
– Featuring a store locator that allows customers to find the nearest branch of the company.
– Offering mobile customers exclusive deals for downloading the app. Special deals can also be offered in the form of a mobile loyalty reward that unlocks when the customer visits the business a certain number of times.
– Allowing customers to do some basic shopping through the mobile app. This is typically reserved for larger companies with the means to develop an app that can securely take payment information. However, smaller companies can include a mobile brochure and direct customers to a main website or include a phone number for ordering.
– Giving the customer a chance to have fun while being exposed to a brand. Simple mobile app games are a popular way to get a brand name out there without directly relating to the business.
5. Stay Active on Social Media Websites
Most companies are aware that social media can be a valuable tool to connect with customers, but many businesses neglect social media because they do not realize how far it reaches. A study conducted by research firm comScore found that over 10 percent of the U.S. population accesses social media through a mobile device on a regular basis.
Tap into social media marketing opportunities by regularly updating media profiles and keeping customers informed about closures, changes in business hours, new products or services and special offers.
Conclusion
Nearly 50% of all smartphone owners research products on their devices and the number of mobile transactions being made continues to rise. Companies that fail to make a website that is compatible with mobile devices could miss out on profits, and a business world with increasing online competition makes it necessary for companies to understand how to cater to the needs of all of their customers.
LiveHelpNow offers an award-winning suite of tools that allow you to provide 360° of customer support on your company website. Visit our products page to learn more about how live chat, inquiry tracking, call management, and a knowledge base can help you engage visitors, turn them into customers, and keep them coming back for more.