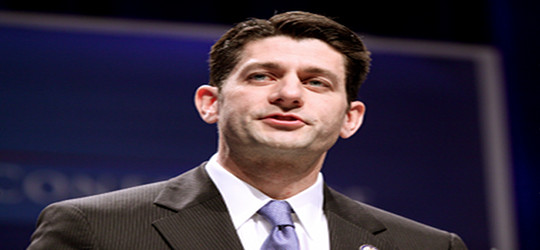 Now that Republican presidential candidate Mitt Romney has selected his VP pick, voters can make a better assessment of what the U.S.'s economic future could look like if the pair is elected. Most of the discussion around Wisconsin Congressman Paul Ryan concerns his 'Path to Prosperity' budget plan, but it's unclear what it would mean for small businesses. Here's a quick look at Ryan's past votes and current ideology as they relate to small business growth:
1. Voting History
In 2010, he voted against the Small Business Jobs Act, which gave the Small Business Administration the ability to provide more loans, and raised the limits on those loans. It also allowed small business to become more competitive, giving them more contracting opportunities by barring agencies from "contract bundling" with larger corporations. About $12 billion in tax relief also made it easier for small businesses to hire new employees, while certain investor deregulations made it easier to attract investors using advertising and the Internet.
Opposition to the bill included the argument that there weren't enough rules in place to determine that responsible businesses were getting the money, and using it in the most effective ways. In other words, there were no guidelines or guarantees that the increased government spending would actually lead to business growth and more jobs. The Act, detractors argued, functioned more as a Band-Aid than a real solution.
2. The Budget
An advocate for small government, Ryan crafted a budget proposal – titled the "Path to Prosperity" –  that essentially removes Washington from the business world. That includes cutting programs for the poor, like food stamps, and turning Medicare and Medicaid into voucher programs through which seniors can buy private insurance. He also favors privatizing Social Security.
The proposal also aims to simplify the tax code, eliminating four of the six current rates and decreasing capital gains and dividends taxes. These tax reforms could give a break as big as $265,000 to individuals earning over $1 million a year. In theory, this will encourage the wealthy to invest, promoting hiring and economic growth. However, he would also increase taxes on the lowest-earning household in the country, prompting some to say he is abandoning the poor and middle class.
Having declared himself a fan of free-market evangelist Ayn Rand, Ryan's plans support his view that the market can regulate itself, and that to much government interference only creates more problems. He claims his budget would spark economic growth right away and balance out sometime in the 2020s.
3. What It Means
While only time can tell how helpful or hurtful any economic policy is, there a few things business owners should consider when casting their ballot in November. First, will they be able to survive without the availability of government loans? Or will tax breaks and fewer government regulations make up for the loss of those funds? Will breaks for the wealthy be a good or bad thing for smaller businesses?
Let us know what you think in the comments. Will Paul Ryan be good or bad for business?