Live chat support should only be offered when agents are available to respond to customer queries. With the LiveHelpNow chat system you can be sure that agents are always ready to take on customer queries by instituting an offline schedule that varies day to day to reflect your business hours.
You can also setup a different offline schedule for each of your departments.
Routing chats by department allows you to automatically send visitors to agents with the right skills. If your sales team works later than the support group then different offline schedules are in order.
If you're already a LiveHelpNow client using the chat system then login, switch to your admin panel and select Chat System > System setup > System settings to configure a daily offline schedule as shown here: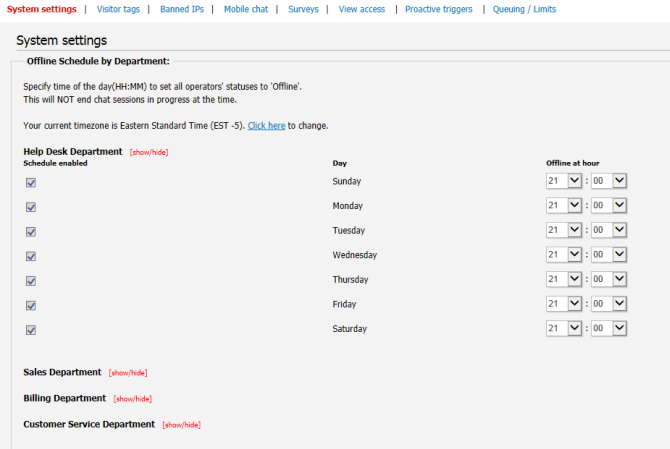 With LiveHelpNow you can add chat support to multiple websites at no additional cost, so the agents you employ for each site may be operating on different schedules.
Start a 30 day free trial of the LiveHelpNow Chat System.
If you already use our Email-Ticket Management, Knowledge Base, or Call Management systems then contact a LiveHelpNow representative and ask them to enable a trial of the Chat System for your account.